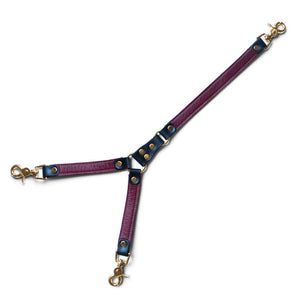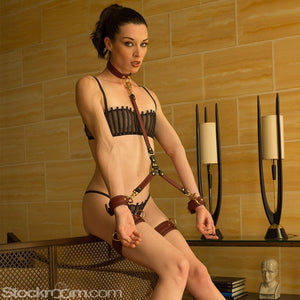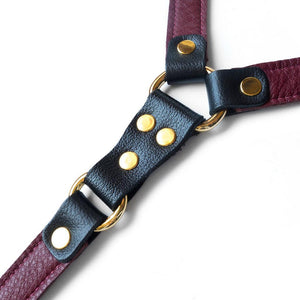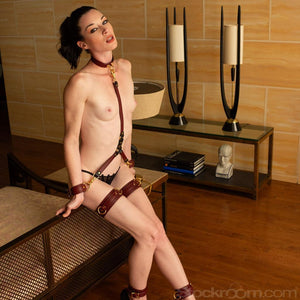 One of the most exciting additions to our selection of high-quality BDSM gear is this innovative luxurious leather connector designed to anchor three attachment points to each other in style.
Designed specifically with a collar-to-cuffs connection in mind, this luxurious JT Signature Collection Tether fills a need between the 4-point restraints of a hogtie, and the classic snap hook or our two-point leather connector. Often in a bondage scene, a pair of cuffs will need to be fastened to a third point or anchor.
This clever connecting device is designed to facilitate a three-point bondage restraint with some room to adjust for comfort without sacrificing restriction entirely. While such restraints could be achieved through clever rope work or additional hardware, these connectors allow you to keep control of your sub without sacrificing style or a unifying aesthetic when used with other pieces in the JT Signature Collection.
Product Details:
• Short strap lengths 8in/20.3cm
• Long strap length 14in/35.6cm
• Maximum total length 21in/53.3cm
• 3.5oz Bordeaux garment leather
• 6oz black leather
• 18K gold-plated hardware
• Sold individually
Note: This item is produced in-house by our leather team in Los Angeles. In-house items display as "In Stock," and in a majority of cases we do have current stock on hand, but if not, the items will be made to order for you, and our customer service team will notify you promptly regarding any anticipated wait (usually just a few days). You will have the option to cancel if you do not wish to wait. If other items in your order are available immediately, the order may be sent in multiple parts.