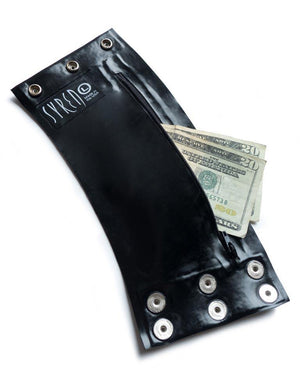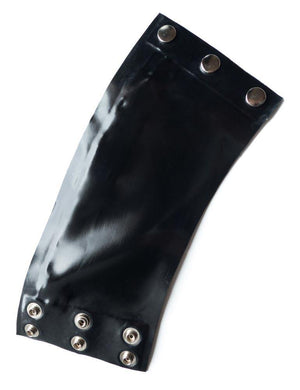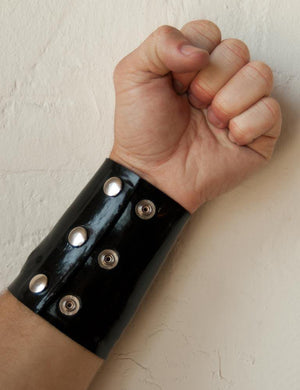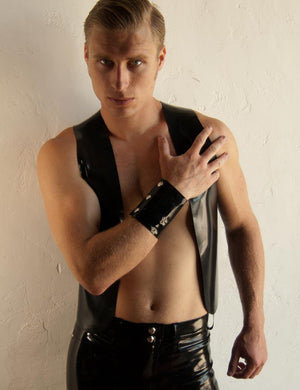 Hit the club in style! On the surface, these gleaming black wrist wallets look like the standard gauntlets often worn to enhance the look and feel of your bondage ensemble, but they have a secret-- each one conceals a zipper pocket on the underside for all your necessities. These pockets are the perfect size to hold condoms, cash, cards, and ID so you can enjoy your bondage play well-accessorized and worry-free.
The curved, tapered design and two rows of adjustable snaps ensure a perfect fit every time. The high-grade 30-gauge latex used in this exclusive product is exceptionally durable and strong compared to similar items sold elsewhere.
Product Details:
• Small - Forearm: 7in (17.7cm) - 7.75in (19.6cm) Wrist: 5.5in (13.9cm) - 6.25in (15.8cm)
• Medium - Forearm: 8in (20.3cm) - 8.75in (22.2cm) Wrist: 6.5in (16.5cm) - 7.25in (18.4cm)
• Large - Forearm: 9in (22.8cm) - 9.75in (24.7cm) Wrist: 7.5in (19cm) - 8.25in (201cm)
• 4in (10.2cm) Wide
• 30-gauge latex
• Adjustable
• Curved for better fit
All Syren items are made to order, just for you, and will take 4-6 weeks turnaround time by our Los Angeles production team.
NOTE: The default color for this item is Black. For this item in a different color or size, call us at 1-800-755-TOYS or 1-213-484-3882 or email info@stockroom.com to place your custom order. Please note that a custom surcharge fee will apply.
Syren is a recognized brand among both fetish fashion enthusiasts and filmmakers who have counted on the company to produce costumes for films such as Batman, Catwoman and Mr. and Mrs. Smith. Joining forces with the Stockroom.com latex designers, we are proud to announce that Syren products have exciting updated styles and improved manufacturing techniques that greatly increase the life of the garments. All Syren products are produced in Los Angeles.