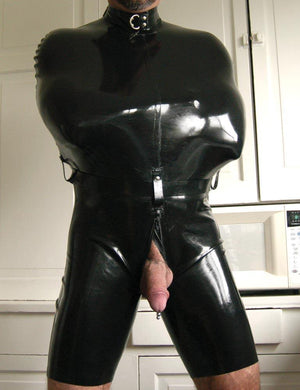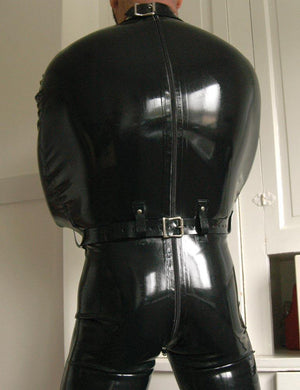 This heavy duty latex rubber bondage suit is made of 25-gauge latex. It has a zippered back entry with five zipper pulls for crotch and rear access.
There is heavy belting with locking buckles at the collar and waist. Five belt loops secure the waist belt. There is a 1¼" D-ring at the collar. There are no sleeves - - the wearer is meant to cross the arms in front of the chest beneath the suit. The heavy belt prohibits the wearer genital access. The legs are cut off shorts-style above the knee.
Size Details:
• Small: Chest 35" to 37", Waist 27" to 31"
• Medium: Chest 38" to 40", Waist 32" to 34"
• Large: Chest 42" to 44", Waist 35" to 38"
• X-Large: Chest 45" to 48", Waist 39" to 42"
All Syren items are made to order, just for you, and will take 4-6 weeks turnaround time by our Los Angeles production team.
NOTE: The default color for this item is Black. For this item in a different color or size, call us at 1-800-755-TOYS or 1-213-484-3882 or email info@stockroom.com to place your custom order. Please note that a custom surcharge fee will apply.