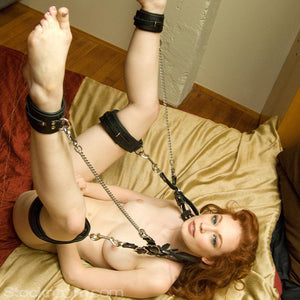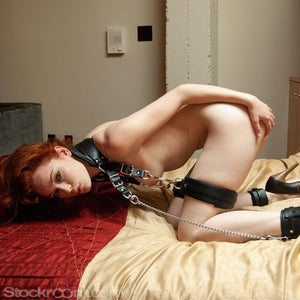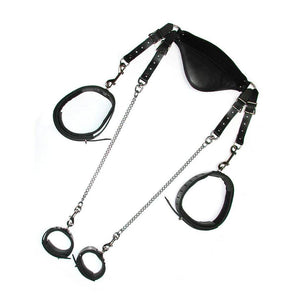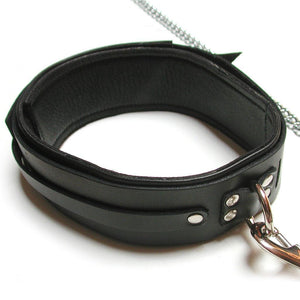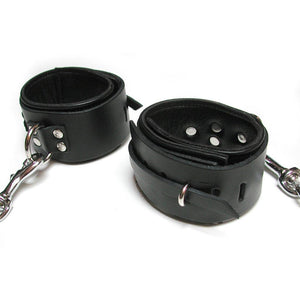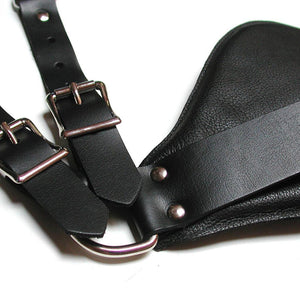 This Stockroom.com original design is unlike any other sex sling on the market. If you are looking to put yourself or your partner in a perfectly compromising position without sacrificing comfort or safety for the neck, this is the bondage sling to choose. The stabilizing neck piece is made from heavy-weight garment leather and filled with ½ inch dense foam padding. This will cradle the neck with firm support, as the leads extend to restrain the thighs and ankles and keep the legs up in the air where they belong.
This hands-free bondage device is an ideal choice for travel, or for those who want serious binding without drilling any hardware into the walls or ceiling. Cuffs and leads are fully adjustable, ensuring a secure fit. Made from heavy-weight garment and latigo leathers, with nickel-plated hardware and chrome leads, this sling epitomizes The Stockroom's commitment to quality.
Product Details:
• Neck Pad: 6 ½" high, 11" long
• Ankle Cuff, interior circumference: 7"– 11"
• Length of Adjustable Ankle Lead: 24"– 29"
• Thigh Cuff, interior circumference: 10½" to 24½"
• Length of Adjustable Thigh Lead: 9"– 12"
Note: This item is produced in-house by our leather team in Los Angeles. In-house items display as "In Stock," and in a majority of cases we do have current stock on hand, but if not, the items will be made to order for you, and our customer service team will notify you promptly regarding any anticipated wait (usually just a few days). You will have the option to cancel if you do not wish to wait. If other items in your order are available immediately, the order may be sent in multiple parts.