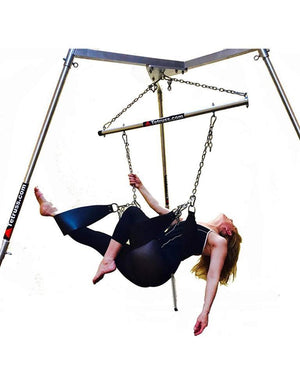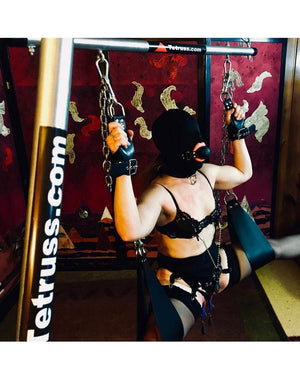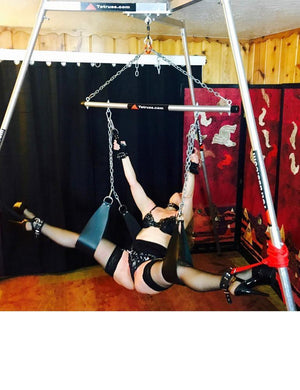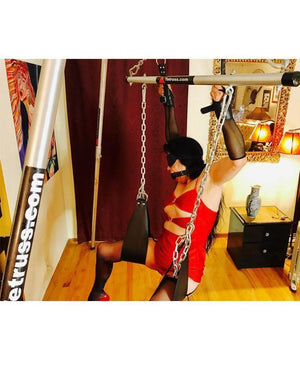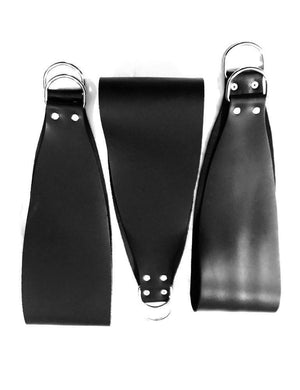 Go all out with your bondage equipment. The Tetruss Maxximus Portable Dungeon Deluxe Bundle gives you everything you need to transform your apartment, living room, or a discreet clearing in the woods into your own dungeon. With the Deluxe Bundle, you not only get the Tetruss Maxximus suspension frame with a 42" top, but also a 44" spreader bar and 3 leather stirrups to support the thighs and back.
The Tetruss Maxximus is made in the USA and designed by Galen Fous the acclaimed kink-positive therapist. The frame holds up to 300 lbs of live weight and assembles without anchors in the wall or ceiling in mere minutes. Ideal for shibari, a sex swing, or just a way to secure a particularly wiggly submissive for their punishment, this is one of the most versatile packages we have for kinksters with extremely active imaginations.
Suspension cuffs/bondage gear sold separately.
Required hardware not included:
• Chains and clips required for spreader bar and 3 piece stirrups attachment
• 2x 24-inch chains
• 2x 36-inch chains
• 14x snap clips
• We recommend welded chain rated at 800 pounds and snap clips rated at 300 pounds.
Shipping Notes:
This will be drop shipped directly from the manufacturer, separately from other items (please allow 1-2 weeks). Certain international orders are not available, please contact our Customer Service to inquire. Express shipping is not available for this item. The standard shipping rate within the U.S. is $69.
International customers: A shipping surcharge may be applied based on the delivery address. You will be contacted with a shipping surcharge quote, or you may inquire for details prior to placing your order. The standard international shipping rate is $129 for any country outside the U.S., Australia, and Canada. For Australia, it is $250 and for Canada, it is $89.