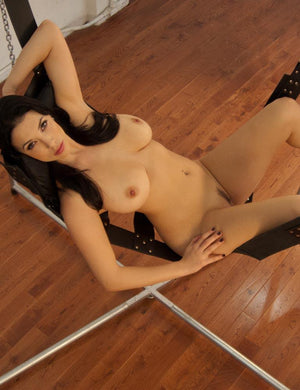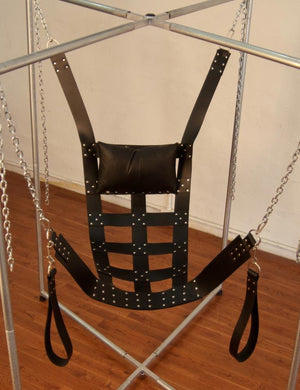 As seen in American Horror Story on the FX Network!
This style of sling is made from 3"-wide strips of black leather, woven together like a big leather hammock and riveted together with nickel-plated rivets.
This sling is trapezoidal in shape: about 37" long, 22½" wide at the top (where your head rests), and 16" wide at the base. It comes with a leather pillow and a set of leather stirrups. For use in suspended sex and/or bondage, this sling makes a great centerpiece in a playroom.
Chain not included.
Now shipping with a black leather pillow.
Note: This item is produced in-house by our leather team in Los Angeles. In-house items display as "In Stock," and in a majority of cases we do have current stock on hand, but if not, the items will be made to order for you, and our customer service team will notify you promptly regarding any anticipated wait (usually just a few days). You will have the option to cancel if you do not wish to wait. If other items in your order are available immediately, the order may be sent in multiple parts.