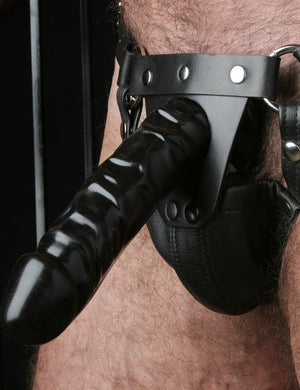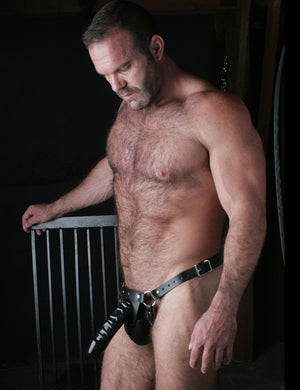 Naturally, most dildo harnesses are designed for women, because women are the ones who are born without that type of equipment already conveniently attached.
However, there are some cases where a dildo harness for a man can be useful as well. For example, it can be used by men who have medical difficulties with maintaining erections. Or it may simply provide a new way for partners to enjoy the endless variety of shapes, sizes, textures, and materials that are available in the wide world of dildos. And of course for people with dominant/submissive interests, it gives the dominant woman (or man) a way to enjoy intercourse with a man without allowing him to share in the satisfaction.
This harness is all black leather with silver rivets, buckles, and O-rings. It adjusts by means of two buckles and a series of snaps, and will fit most men with waist measurements from 27" to 44" (69-112cm).
Dildos sold separately.