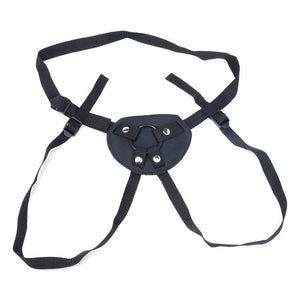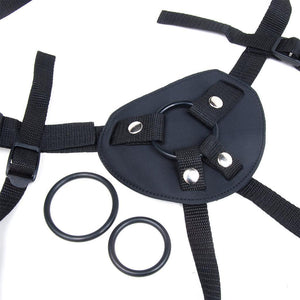 This dildo harness is identical to the regular Terra Firma® Dildo harness but it is made out of nylon faced neoprene with poly–webbing straps, and its buckles are made from sturdy black plastic. Its changeable O-ring allows for use w/ large dildos up to 3" diameter with base. Harness base can also be removed easily to change dildos. The material in this item is safe to wash.
Wondering which Terra Firma® Dildo Harness is right for you? Named for the D-rings on the side straps, the Terra Firma® "Dee" harness takes longer to put on but adjusts precisely to all your curves and contours for a perfect fit that stays secure no matter how wild you and your partner get. Just want it quick and dirty? Try the original Terra Firma® Harness with quick-buckling straps in lightweight leather and nickel-plated D rings for an exact fit.
The Terra Firma® Harness includes 3 rubber O-rings to fit all of your dildos that have a base. O-Ring sizes are as follows:
• 1.5" • 1.75" • 2"
This harness is adjustable to fit those with a hip measurement up to 33.5" - 50"