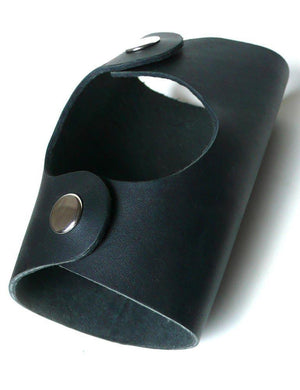 If you have dildos that aren't specifically designed for use with a strap-in harness, you might find a Dildo Keeper helpful.
Each of these keepers is a leather piece designed to snap around the base of a dildo so that it can be more securely attached to a strap.
You don't necessarily need a keeper with our chastity harness (or with similar harnesses made by other companies), but if you feel a need for a more secure fit, it might be worth a try.
Note: This item is produced in-house by our leather team in Los Angeles. In-house items display as "In Stock," and in a majority of cases we do have current stock on hand, but if not, the items will be made to order for you, and our customer service team will notify you promptly regarding any anticipated wait (usually just a few days). You will have the option to cancel if you do not wish to wait. If other items in your order are available immediately, the order may be sent in multiple parts.