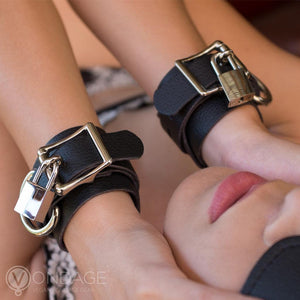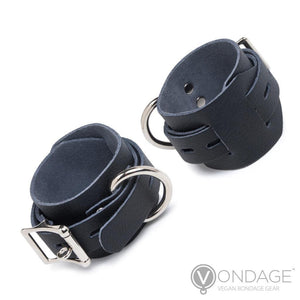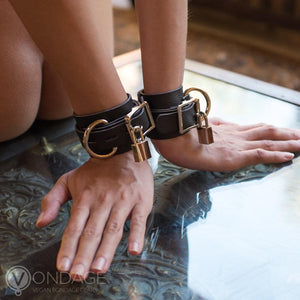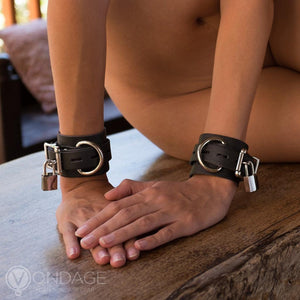 These cuffs are the perfect fit for the sub who wants to serve their Dominant and the environment at the same time. As strong and flexible as leather, the vegan microfiber used in Vondage cuffs is non-allergenic, resistant to water and heat, and breathes easily so that your sub will stay restrained without any uncomfortable chafing. Be confident that your gear will stand up to the most impassioned play without hurting the environment.
The cuffs are 2" wide and now accommodate a size range of 5.5" to 12.5". Includes nickel-plated D-rings and a locking buckle so that you can attach your partner to the nearest convenient attachment point and keep them there.
When you want all your cruelty to be consensual, reach first for the gear in our Vondage line. Made from a vegan microfiber that has all the sensual feeling of leather yet is completely free of animal products, Vondage gear allows you to give free rein to your most devious bedroom impulses while being kind to animals.
Product Details:
• These cuffs fit wrist or ankles measuring 5.5" to 12.5" around (14 - 32cm).
• A heavy-gauge D-ring provides a point of attachment.
• Locks can be added to the buckles for extra security, but are not necessary.
• Sold as a pair (two cuffs).
Safety, Care & Usage: With a damp washcloth and hand soap, rub-down the vegan microfiber material and dry completely. Do not expose material to excessive heat.
Note: This item is produced in-house by our leather team in Los Angeles. In-house items display as "In Stock," and in a majority of cases we do have current stock on hand, but if not, the items will be made to order for you, and our customer service team will notify you promptly regarding any anticipated wait (usually just a few days). You will have the option to cancel if you do not wish to wait. If other items in your order are available immediately, the order may be sent in multiple parts.