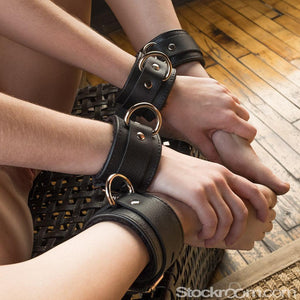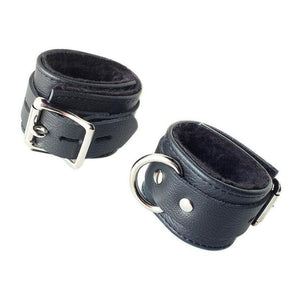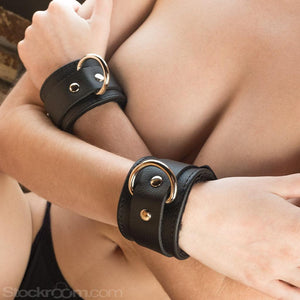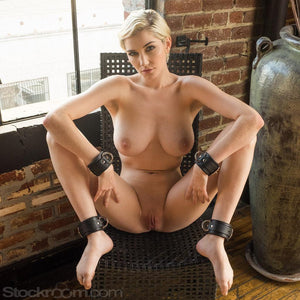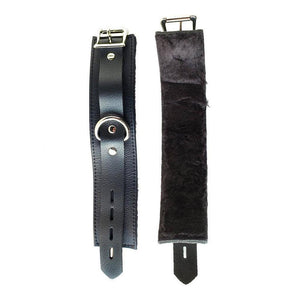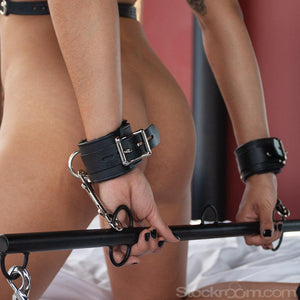 Wrap your submissive's wrists in these luxurious fleece-lined garment leather cuffs — then the fun begins! Handmade from leather as soft as a caress and strong as a wrestler's grip, these are simple, classic bondage restraints built with modern craftsmanship.
Garment leather is one of our favorite materials for restraints — especially when the sub likes to get frisky; the soft, supple texture keeps the wearer comfortable and safe while holding well to all of that enthusiastic thrashing. For extra protection against chafing, the insides are lined with fleece, while the two-layer design prevents uncomfortable pinching when you close the cuffs.
Our leather bondage gear is made of particularly fine leather and manufactured right here in Los Angeles, USA.
Product Details:
• These cuffs will fit wrists measuring 5.5" to 8" around (14 - 20cm).
• Material: Black garment leather with black latigo leather straps, nickel-plated buckles and rivets, with fleece lining.
• A heavy-gauge D-ring provides a point of attachment.
• Locks can be added to the buckles for extra security, but are not necessary.
• Sold in pairs.
Note: This item is produced in-house by our leather team in Los Angeles. In-house items display as "In Stock," and in a majority of cases we do have current stock on hand, but if not, the items will be made to order for you, and our customer service team will notify you promptly regarding any anticipated wait (usually just a few days). You will have the option to cancel if you do not wish to wait. If other items in your order are available immediately, the order may be sent in multiple parts.