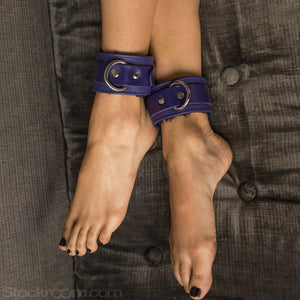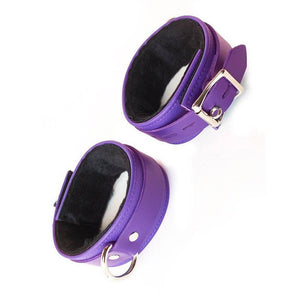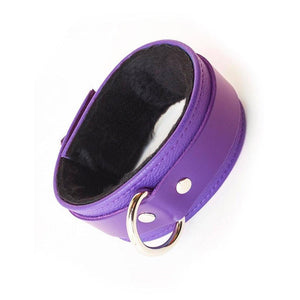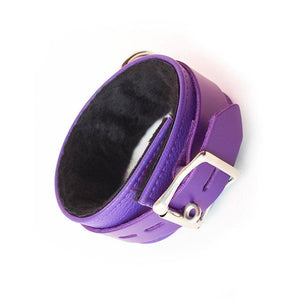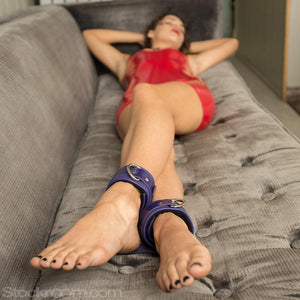 Wrap your submissive's ankles in luxury with our Purple Fleece Lined Garment Leather Ankle Cuffs. The soft give of a garment leather strap surrounding the velvety grip of the fleece lining. A D-ring riveted between the straps secures the ankles to the anchor of your choice. The double strap design allows for an overlap, giving the wearer an unbroken barrier of softness with no pinching at the buckle.
The pliable nature of the garment leather makes this piece durable in its pliability. It resists wear and holds shape, making these cuffs perfect for long use that stays strong and stylish. Slip a padlock through the rings on the buckles and the only hope for freedom belongs to the one who holds the key.
Our leather bondage gear is made of particularly fine leather and manufactured right here in Los Angeles, USA.
Product Details:
• These cuffs are 15.5" long (39.4cm) and 2" wide (5.1cm).
• Material: Purple garment leather with purple latigo leather straps, nickel-plated buckles and rivets, with fleece lining.
• A heavy-gauge D-ring provides a point of attachment.
• Locks can be added to the buckles for extra security, but are not necessary.
• Sold in pairs.
• Features a 1" locking center bar, roller buckle
• Accommodates padlocks such as the Baby Nickel Plated Padlock or the Master Lock Padlock
Note: This item is produced in-house by our leather team in Los Angeles. In-house items display as "In Stock," and in a majority of cases we do have current stock on hand, but if not, the items will be made to order for you, and our customer service team will notify you promptly regarding any anticipated wait (usually just a few days). You will have the option to cancel if you do not wish to wait. If other items in your order are available immediately, the order may be sent in multiple parts.