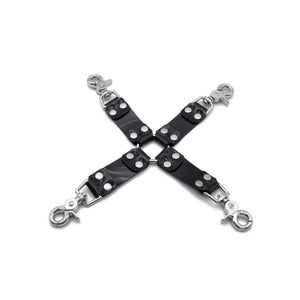 Hog-ties make bondage quick, easy, and practically inescapable in a matter of moments. This is one of the best that we've crafted ourselves; made of black PVC (with matching cuffs and collars available) it puts a touch of sinister style on your bondage scene.
At each of the four ends, a rotating crab-claw hook will easily grab onto restraining points and hold on until you release them. No matter how much your sub squirms, they won't be going anywhere until you say so.
Ideal for... BDSM, bondage, submissive training, slave training, BDSM Fashion.
Product Details:
• 11" (28cm) from tip to tip
• 4 rotatable crab-claw hooks
• Made with black PVC and nickel-plated hardware
• Sold individually
Note: This item is produced in-house by our leather team in Los Angeles. In-house items display as "In Stock," and in a majority of cases we do have current stock on hand, but if not, the items will be made to order for you, and our customer service team will notify you promptly regarding any anticipated wait (usually just a few days). You will have the option to cancel if you do not wish to wait. If other items in your order are available immediately, the order may be sent in multiple parts.