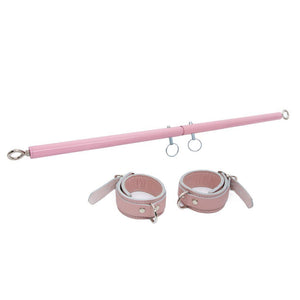 Make your bondage play femme and adorable with this pink spreader bar with our Stupid Cute Ankle Cuffs, made of pink leather. Tell your favorite sub to open up — then keep them open while you decide what kind of naughtiness you want to inflict on them. An excellent set to have around DDLG play, sissification scenes, or just putting a little bit of color into the dungeon.
The bar adjusts from 25" to 37" with eyebolts on each end to attach the cuffs, chains, or whatever else you want. While traveling, you can break it down into three pieces for easy storage.
The Pink Spreader Bar Bundle includes:
• 1 Pink Adjustable Spreader Bar, 25" to 37"
• 1 Pair of the Stupid Cute Ankle Cuffs, Size S/M
Pink Spreader Bar:
• Adjusts from 25"-37" (63.5 - 94cm)
• Breaks down into 3 parts for easy travel
• Heavy eyebolts on either end for attaching cuffs
Stupid Cute Ankle Cuffs:
• S/M size fits ankles 6.5-9.5in (16.5-24cm)
• Made with high-quality leather & nickel-plated hardware
Note: This item is produced in-house by our leather team in Los Angeles. In-house items display as "In Stock," and in a majority of cases we do have current stock on hand, but if not, the items will be made to order for you, and our customer service team will notify you promptly regarding any anticipated wait (usually just a few days). You will have the option to cancel if you do not wish to wait. If other items in your order are available immediately, the order may be sent in multiple parts.