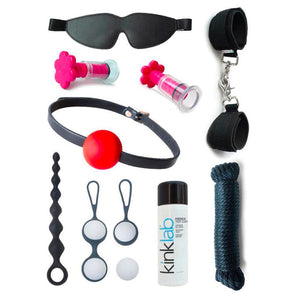 As much as we love going out to the local dungeon, sometimes you just can't beat the special intimacy of building a scene at home. The Deluxe Stay At Home Adventure Kit goes beyond the basic bondage supplies to give everything you need to serve up an evening's repast of sensual pleasure and pain. With very little effort, even the humblest abode becomes someplace for you to explore your desires without shame or inhibition.
The Deluxe Stay-at-Home-Kit includes:
• 1 KinkLab Red Silicone Ball Gag
• 1 KinkLab Black PU Blindfold
• 25 ft Black Nylon Rope (6.35mm diameter)
• 1 pair of KinkLab Neoprene Cuffs
• 1 pair of KinkLab T-cups Nipple Suction Set
• 1 pair of KinkLab Private Pursuit Kegel Balls
• 1 string of KinkLab Innuendo Anal Beads
• 1 Bottle of KinkLab Toy Cleaner (3.4 oz)
Note: This item is produced in-house by our leather team in Los Angeles. In-house items display as "In Stock," and in a majority of cases we do have current stock on hand, but if not, the items will be made to order for you, and our customer service team will notify you promptly regarding any anticipated wait (usually just a few days). You will have the option to cancel if you do not wish to wait. If other items in your order are available immediately, the order may be sent in multiple parts.