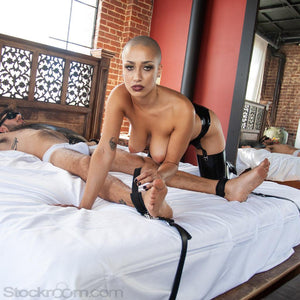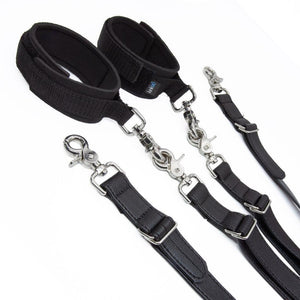 Get your bondage play started immediately with this simple but complete bundle. With two pairs of our own KinkLab Neoprene Cuffs and a Bound-O-Round 4-Point Restraint System, even the plainest bedroom instantly transforms into a private dungeon.
The cuffs have a wraparound Velcro design, making it easy to take them on and off in a moment's notice - an essential safety measure when you're trying bondage play for the first time. But don't worry; they provide solid restraint, and won't come off until you say so.
The Restraint System fits neatly under the mattress and wraps around the four corners, ready to clip onto the cuffs and keep your partner spread-eagled and ready for action - whatever that means to you. Let us make bondage simple and without worry while still turning up the heat.
The Bed Bondage Restraint Bundle includes:
• 1 KinkLab Bound-O-Round 4-Point Restraint System
• 2 Pairs of KinkLab Neoprene Bondage Cuffs
KinkLab Bound-O-Round 4-Point Restraint System:
• Fits all standard-sized beds
• Total length: 100in (254cm) tip-to-tip when flat
• Nickel-free hardware
KinkLab Neoprene Bondage Cuffs:
• Fits wrist and ankles of most adults
• About 10" in length when laid flat
• Secure velcro fastening with nylon webbing straps
Note: This item is produced in-house by our leather team in Los Angeles. In-house items display as "In Stock," and in a majority of cases we do have current stock on hand, but if not, the items will be made to order for you, and our customer service team will notify you promptly regarding any anticipated wait (usually just a few days). You will have the option to cancel if you do not wish to wait. If other items in your order are available immediately, the order may be sent in multiple parts.