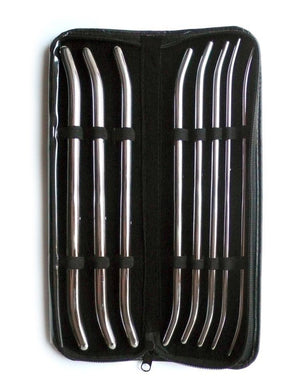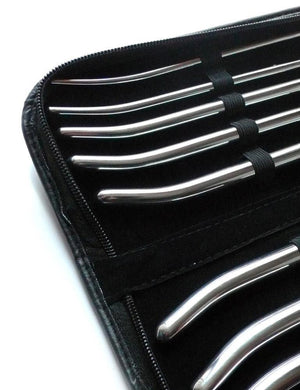 This kit definitely qualifies as unusual, and a little scary by most people's standards.
These set of probes, 11.5" long, are made of chrome-plated brass. Each probe in the series is slightly larger than the one before, and slightly larger on one end than on the other, for a total of 16 graduated sizes, varying from just over 3/16 inch in diameter to about ½ inch.
The original intended medical use for these probes was to dilate the cervix, but they were also used to clear blockages in the urethra. With this kit, even the smallest size is probably too large for a beginner to insert.
For people with a fetish for bizarre old medical paraphernalia, these kits are a find. Each piece is rounded at each end, and they come in a high-quality, zippered dark brown leather case with red velvet lining on the inside.
Sold as a novelty, and not recommended for actual use except under the guidance of an expert.
This extra long kit differs from the Basic Probe Kit in the following ways: The probes are 3 3/4" longer, and heavier. These pieces have a slightly different shape, and the diameters are different as well. Note that the 8" probes on the basic kit also cover a greater range of diameters, on both the larger and smaller ends.
Recommended for use with surgical lube