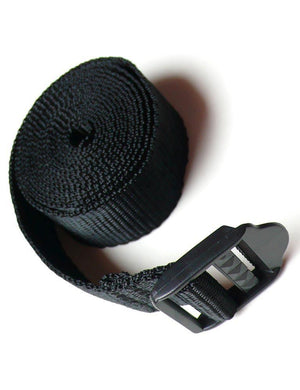 This simple black nylon utility strap (AKA "nylon webbing") is manufactured as a piece of general-purpose camping gear. It is 6' long and 1" wide, with a black plastic buckle, and can be very effective for bondage purposes.
The strap can be quickly and easily secured around wrists, ankles, waist, thighs, etc, and is equally quick to take off. If there is some tension on the strap, it will be difficult for the person wearing it to escape unless (s)he has a hand free to work the buckle. Straps can be secured to any stationary object simply by tying them on.
Strap length is easily shortened using scissors.
SKU: A424