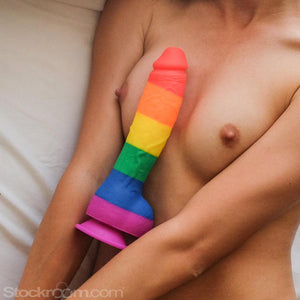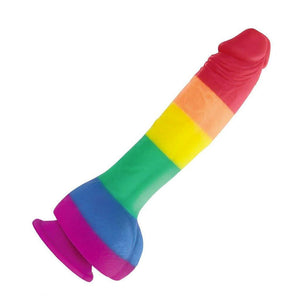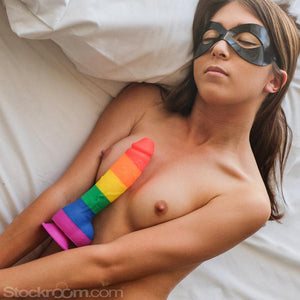 Rainbow flags aren't the only thing to wave with pride now that NS Novelties has introduced its Colours Pride Edition 8-inch dong. Like the classic black Colours dildo, the Pride dong is a realistically textured and proportioned sex toy made from 100% medical grade silicone.
The surface of this dildo is molded to resemble an actual cock, with raised ridges around the head and ersatz veins to give it the feel of a throbbing, aroused member. It even has a pair of balls near the base to offer a fully lifelike appearance, aside from the fact that it's striped to resemble the classic six-band rainbow LGBT Pride flag. The base of this dildo also features a suction cup, making it easy to use in a shower or other private place with flat smooth surfaces.
Ideal for...Masturbation, G Spot stimulation, P Spot Stimulation, vaginal penetration, anal penetration, gay pride.
Product Details:
• Dong made of medical grade silicone
• Overall length: 8in/20cm
• Diameter: 1.8in/4.6cm
• Circumference: 5.75in/14.5cm
• Versatile suction cup base
• Harness compatible
• Realistic sculpted detail