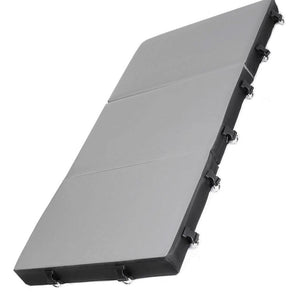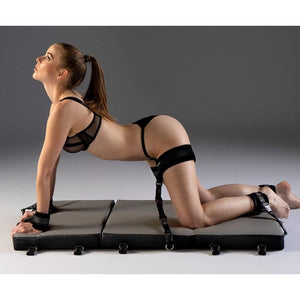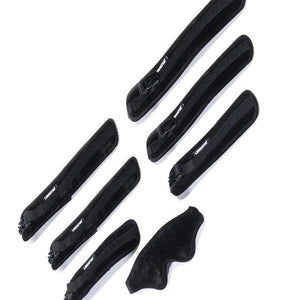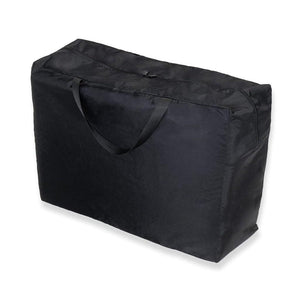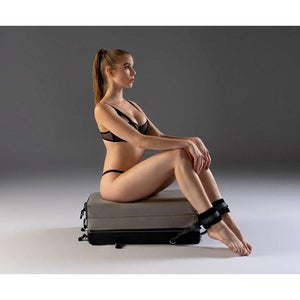 The Bondi Portable Playscape by Liberator is the cream of the crop when it comes to erotic restraint play. Expertly crafted with a solid Baltic birchwood base, the Bondi creates a stable platform for couples to explore bondage play - whether on a floor or on a bed. This weighted, tri-fold bondage platform comes equipped with a total of 16 reinforced D-ring and clip attachment points to give you complete control and access to your partner. Easy to straddle and maneuver, this playscape makes any posture or position a breeze.
The premium faux leather cover feels buttery smooth and amazing against bare skin, while the high-density foam insert provides supremely plush comfort and support for longer play sessions. The ingenious tri-fold hinge design lets couples integrate their favorite Liberator Shapes such as the Wedge or Ramp for added fun and excitement and can also be used as a low-profile bondage bench when folded together. Whether you long to be tied up or want to be the one doing the cuffing, this ingenious product is the perfect addition to any erotic bedroom collection. Includes a nylon carrying case with reinforced handle for discreet travel and easy storage.
The Bondi Portable Playscape features:
• Trifold, portable playscape design for erotic restraint play
• Crafted with premium high-density foam and Baltic Birchwood Base
• 16 reinforced attachment points: each with D-rings and female clips
• Premium faux leather cover
• Multiple applications, can be used flat or folded, or used against a wall
• Durable black nylon sides and bottom prevent slipping
• Comes with black nylon carrying case for convenient and discreet travel and storage
• Handcrafted in the USA
Ideal for…couples, kinky sex, sex position support, bondage, bondage sex.
Product Details:
• Cover: Synthetic leather is soft, breathable, antimicrobial, non-staining, and easy to wipe clean
• Foam: High-density polyurethane
• Dimensions Flattened: 24"L x 48"W x 3"H | Folded: 24"L x 16"W x 9"H
SHIPPING NOTES:
This will be drop-shipped directly from the manufacturer, separately from other items (please allow 4 weeks). International orders are not available. The price of the item includes FREE SHIPPING within the continental US. Additional shipping fees may apply otherwise. Express shipping is not available for this item.