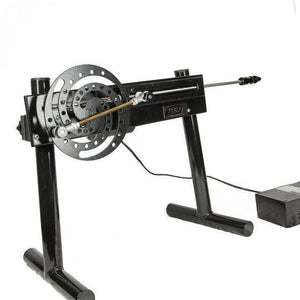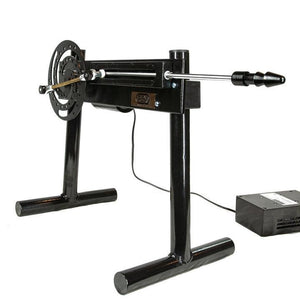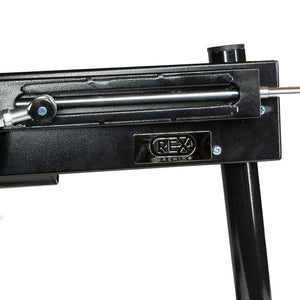 There's penetration, and then there's the deep, driving penetration that you get when you crank up The Rex Machine. Built on a sturdy metal frame supported by two adjustable T-legs, the Rex uses a flywheel mechanism for up to 8 inches of penetration.
The flywheel action can be adjusted for speed as well, from a dead stop up to 240 RPM for fierce play. Included with the Rex is a Vac-U-Lock adaptor, so you can equip the shaft with your favorite dildo for the specific kind of penetration that you're craving.
In addition, check out the available adaptors for The Rex Machine that we carry, to expand your experiences into new territories.
Product Details:
• Length & Width (the machine): 19in x 4in (48.3 x 10.2cm)
• Height (bottom to top of leg): 17in (43.2cm)
• Weight: 28.4 lbs (12.8 kg)
• 0-240 RPM speed control
• Torque: 5N.m
• Horse Power: 0.1 HP
• Thrust depth at 8in maximum (20.3cm)
• Adjustable leg height for various thrust angles
• Annotated hand held remote control
• All major components CNC machined from aircraft alloy
Available adaptors sold separately:
• Velcro Universal Dildo Adaptor
• Fleshlight Stroker Adaptor
• Extension Rod Adaptor
No returns/exchanges will be accepted for this product. All sales are final.
Shipping:
*Express Shipping is not available for this item.
• Continental US: Supplemental shipping surcharge is included in the price.
• Alaska, Hawaii, US Territories, and International locations: A shipping surcharge may be applied based on delivery address. You will be contacted with a shipping surcharge quote, or you may inquire for details prior to placing your order.