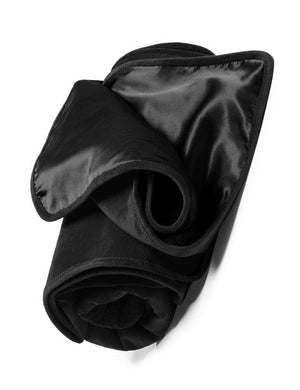 These sex throws are specially designed to create a soft, delicate playscape for your wettest erotic adventures while the inner barrier keeps your bedding dry. One side is an extraordinarily soft velvish (a washable velvet-like fabric); the other is silky satin, making it a reversible, versatile, and titillating sex-scape. An inner moisture barrier ensures your bedding stays spotless. Toss it on top of sheets, sofas, and any fancy home furnishings that you want to shield from your throes of passion. When you are satisfied, simply toss it in the wash.
Product Details:
• Fabric Details: Velvish - plush faux velvet cover – 100% polyester
• Cover: Machine-washable velvish backed with satin
• Liner: Water barrier
• Dimensions: 72 x 54
SHIPPING NOTES:
This will be drop shipped directly from the manufacturer, separately from other items (please allow 1-2 weeks). International orders are not available. The price of the item includes FREE SHIPPING within the continental US. Additional shipping fees may apply otherwise. Express shipping is not available for this item.
SKU: G569