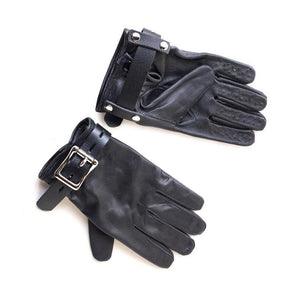 The touch of these vampire gloves is not soon forgotten. Small spikes line themselves up and down all five fingers. A light touch or stroke brings with it an intoxicating tingle. Tighten the grip and the spikes clench down with the strength of several rows of sharp teeth. The light garment leather, soft on the wearer's hands, holds all of this power in a sexy package, held tight at its base by a classic strap and buckle.
The strap and buckle addition turns this Top's toy into a sub's device of denial. Lock the base strap in place, and your sub cannot escape. Play with some hands-off chastity, no longer able to give a firm squeeze without a sharp response. Perfect for erotic sensation play all the way to heavy BDSM.
To determine your glove size, follow these directions:
1. Measure around the hand at the fullest part. (not including the thumb)
2. Measure from the tip of the middle finger to the base of the hand.
3. Use the LARGEST of the two measurements for the correct glove size.
4. If you are RIGHT handed, take measurements from your RIGHT hand, if you are LEFT handed, take measurements from your LEFT hand.
Product Details:
• X-Small - 7 1/2" glove size (19.1cm)
• Small - 8 1/2" glove size (22cm)
• Medium - 9 1/2" (24cm)
• Large - 10 1/2" (27cm)
• X-Large - 11 1/2" (29cm)
Note: This item is produced in-house by our leather team in Los Angeles. In-house items display as "In Stock," and in a majority of cases we do have current stock on hand, but if not, the items will be made to order for you, and our customer service team will notify you promptly regarding any anticipated wait (usually just a few days). You will have the option to cancel if you do not wish to wait. If other items in your order are available immediately, the order may be sent in multiple parts.