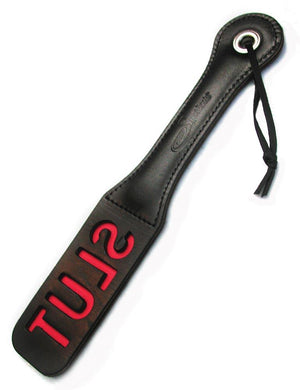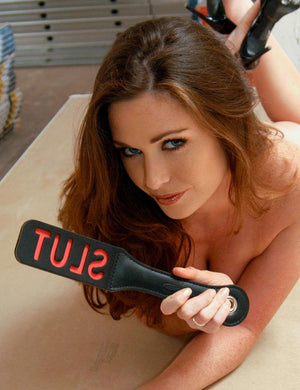 "Sticks and stones may break bones, but names will never hurt you."
That is unless the word "SLUT" is spanked onto your bare-ass bottom with the SLUT Impression Paddle. The "SLUT Paddle" is a delightful word imprint paddle that gives a great spanking. This leather paddle has a deliciously stinging bite, and is very expressive.
The total length is approximately 12.5", including the handle, and it is 2.5" at its widest point. The slapping leather layer has the word SLUT cut out of it. When you slap it onto the bare body, it makes a rosy impression of that word, right on the skin. The impression paddle is made from high-quality Latigo leather with a rigid yet flexible skeleton. There is a loop of nylon cord attached to the end for hanging. For a spanking good paddle that leaves you with a reminder, get a "SLUT Paddle".