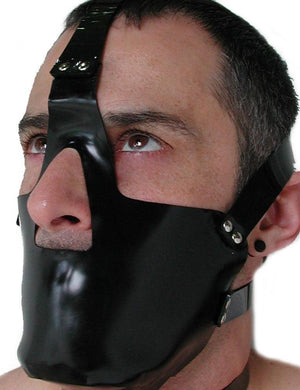 This Rubber Head Harness is made of heavy 30-gauge latex rubber that wraps snugly around the face. This harness is held securely in place by 4 straps made of PVC, 3 chrome buckles, and a collar. It is solidly constructed with 29 chrome rivets and canvas reinforcements.
Also Available in Leather.
Size Details:
• Neck: 14.5" – 18"
• Around Mouth Strap: 19" – 23"
• Above Ears Straps: 22" – 27"
• Above Bridge of Nose to Neck: 20"
All Syren items are made to order, just for you, and will take 4-6 weeks turnaround time by our Los Angeles production team.
NOTE: The default color for this item is Black. For this item in a different color or size, call us at 1-800-755-TOYS or 1-213-484-3882 or email info@stockroom.com to place your custom order. Please note that a custom surcharge fee will apply.