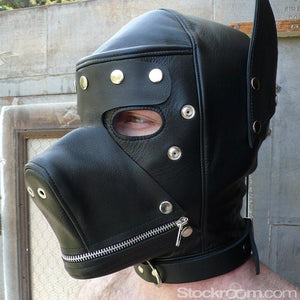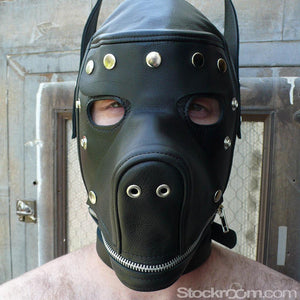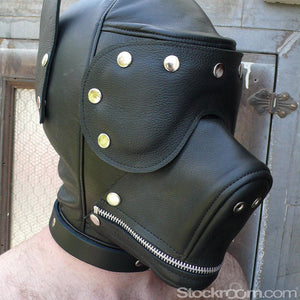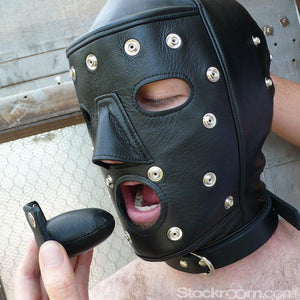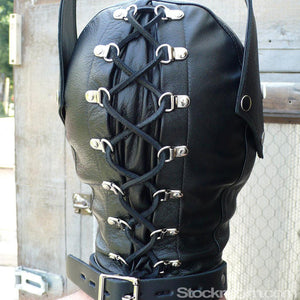 This handmade piece is a heavy-duty leather bondage/slave hood with the usual snap-on mouth-filling gag and removable blindfold, but it can also convert into an impressive Dog Face Hood. It makes for flexible transitions from a person to a slave to a doggy. The dog ears are also removable.
Remove the blindfold and snap on the muzzle to make it into a Dog Face Hood. Under the muzzle, the wearer's nose is not restricted from breathing. The muzzle has two nostril holes and unzips for full access to the mouth.
It laces up the back and has a lockable buckle at the collar. There is a flap of leather to prevent hair tangles in the laces. A leash may be attached to a D-ring on the back of the collar.
This high-quality, comfortable soft leather hood is ready for hard play and long-term wear and promises a variety of play options.
Crawl around like a good dog in our Leather Puppy Paw Fist Mitts.
Please Note: All returned hoods which include gags or mouthpieces are subject to a $15.00 restocking fee.
Ideal for: Puppy Play Fetish, Pet Play, Animal Role-play, Human Pup Training.
Product Details:
• Around Neck: S/M = 15 - 18 inches M/L = 16 - 20 inches
•Around Forehead: S/M = 22 - 23 inches M/L = 23 - 25 inches
• Nose Circumference: S/M = 23 - 25 inches M/L = 24 - 26 inches
•Mouth Circumference: S/M = 19 - 23 inches M/L = 21 - 24 inches
• Features a 7/8" locking center bar, roller buckle
• Accommodates padlocks such as the Baby Nickel Plated Padlock or the Master Lock Padlock (Small)
Note: This item is produced in-house by our leather team in Los Angeles. In-house items display as "In Stock," and in a majority of cases we do have current stock on hand, but if not, the items will be made to order for you, and our customer service team will notify you promptly regarding any anticipated wait (usually just a few days). You will have the option to cancel if you do not wish to wait. If other items in your order are available immediately, the order may be sent in multiple parts.