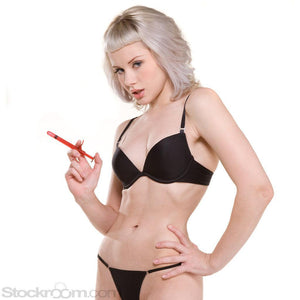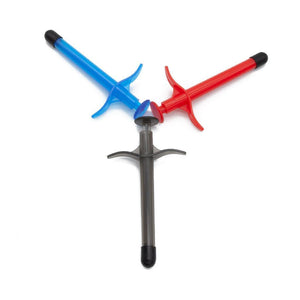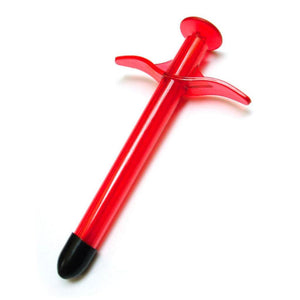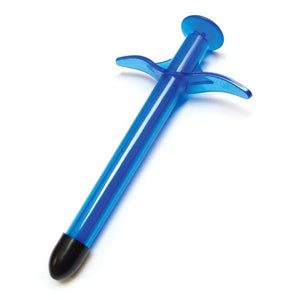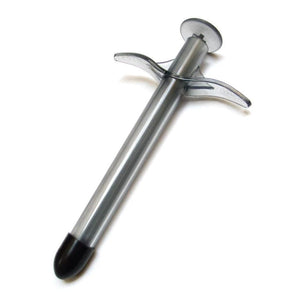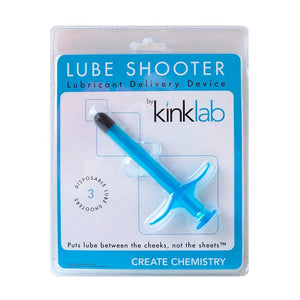 The Lube Shooter® personal lube applicator keeps lubricant where it belongs – between the cheeks, and not on the sheets! Now available in five colors besides the original red, our Lube Shooter® can hold any type and texture of lube, from thin water-based liquid to thick heavy oil-based cream, without spilling a drop – great for delivering lubrication to the hard-to-reach places you need it most, and equally great for keeping oily or sticky lube stains off your bedding. This disposable lube applicator works just like a hypodermic syringe, so nothing comes out till you push the plunger. Load the Shooter by pulling out the plunger completely and pouring lube into the barrel straight from the bottle – or, if your lube comes in a tub, simply dunk the whole assembly into the container and pull up the plunger to fill. (Don't double dip! Always use a clean barrel before putting the device back in the container of lube)
Each Lube Shooter® three-pack comes with three lube applicator barrels and one plunger in your choice of five jewel-tone colors. Buy multiple colored shooters so you can color-code your lubes by type or by destination for safer, more sanitary play.
The Stockroom is proud to bring you the original Lube Shooter® - a bestselling adult classic – as part of our Kinklab beginner bondage line. Great for anal or fisting because this lube applicator system can put the thickest lube in the most out-of-the way places, the Lube Shooter® is an indispensable tool for anyone who wants to fumble a little less in the bedroom. Let The Stockroom help you stay smooth…literally, and figuratively!
This item cannot be sterilized and should not be used on multiple partners. One time use only.
Product Details:
• Applicator measures 5in/12.7cm from base to tip
• Applicator measures 1in/2.54cm in circumference
• Plunger measures 4 in/10.16cm from base to tip
• Plunger measures ½ in/1.27cm in circumference
• Shooter holds up to 5cc's (5mL) of lube