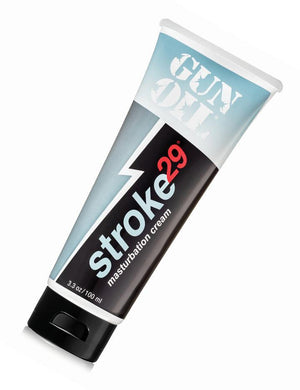 Can you make it to the 29th stroke? Put Stroke 29 Masturbation Cream to the test! This premium lube, part of the best-selling Gun Oil line takes masturbation to a whole new level. Scoop up a dab of the thick, creamy formula and apply evenly around your shaft for an intense masturbation experience. Up and down, slow and steady – now start counting as you feel yourself warm up with the lube.
Around the 29th stroke, you'll notice a change in the sensation of your erect shaft as Stroke 29 takes on a heat and glide that feels perfect. Stroke 29 will last longer than you do, so there's no need to reapply before reaching orgasm.
• Stroke 29 is not intended for use with latex condoms and does not contain spermicide.
• Contains skin-beneficial almond and coconut oils, aloe vera and vitamin E and is fragrance and irritant-free.
• Stroke 29 comes in a 3.3oz/100ml flip-top tube.