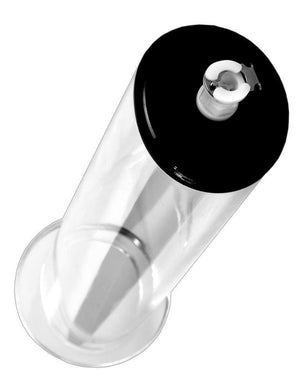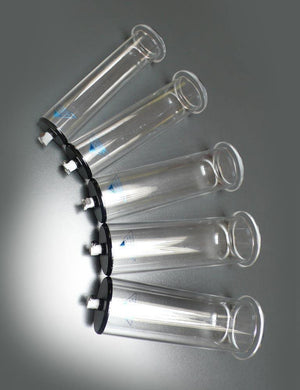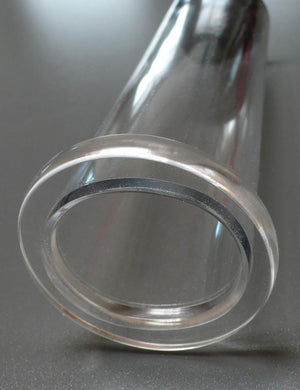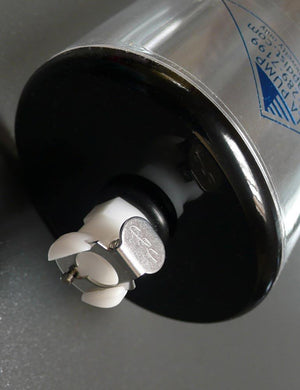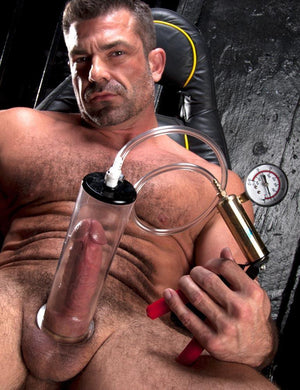 The Wide Body Cylinder is designed for penis pumping as intense erotic massage and/or penis extension. It comes with an Air Pressure Valve designed to be used with the Basic Hand Pump or the Deluxe Brass Hand Pump. This unique design will shorten the time it takes to increase your width and length by 40% over the standard models.
Don't forget to maximize your pumping routine with Precision Pump Lube!
Before we discuss the benefits of penis pumping and the exceptional quality of this new line of pumping products, we want to articulate: Proceed slowly and with care.
Excessive pumping can lead to discomfort and injury.
When using pumps such as these, never proceed to the point where the suction causes pain. Stop when the penis is only slightly larger than its normal erect size. Be sure to read all the directions and warnings, and be conservative and cautious in using these devices.
When pumping, it is strongly suggested to not pump for more than 10 minutes a day.
These new penis cylinders are handcrafted of the finest space-age polymers. Each crystal clear cylinder is built for comfort and the best vacuum seal without the use of awkward rubber gaskets. All expansion tubes are made of the thickest and strongest materials available, for maximum pumping results. They include a quick connect/disconnect safety release valve that allows for disconnection from the expansion tube while maintaining the exact pressure you have chosen.
How does cock pumping work?
The penis is well lubricated and inserted into the tube. The pump is attached via the safety quick release airlock attachment. Upon pumping a vacuum is created - penis enlargement happens as your penis grows to maximum dimensions inside the tube. While overzealous vacuum pumping does carry some risks, when done carefully, it is a safe way to achieve mild penis enlargement. The most frequent problem is pumping the cock too hard and fast, stressing the penis. Too much pressure can cause temporary bruising of the penis, water blisters, red pinpricks, etc.
Go slowly and increase the vacuum gradually over a long period of time.
Medical Doctors have been using vacuum pumps to treat impotence for years. If done carefully, pumping is safer than surgical alternatives to penis enlargement. Most get greater increases in width than in length. This occurs with long pumping sessions.
It's difficult to predict how much of an increase in length will occur, but it's possible, while in the cylinder to gain as much as 2 inches or more in length.
Generally, the increases in girth will be larger, and longer-lasting. Penis width is increased using wider cylinders. If you're more concerned about getting increases in length it is suggested that you buy a narrow cylinder. Your penis will get more of a pull in length in a long narrow cylinder, than pulling outward, which increases width.
Find Your Length: Optimum penis cylinder length is 2-3 inches longer than the topside length of your erect penis. (Lay a ruler on top of the penis with the base nestled snugly against the point where the penis shaft meets the body.)
Find Your Diameter: Penis enlargement cylinders are sized using the circumference (the distance around) of the penis when erect. To measure the erect penis to use a string or shoelace/dental floss and wrap it loosely around the thickest part of the penis when erect. (Usually, this is very near the base, but some men find the area near the glands (just below the head) to be thicker. Mark the string where it comes together, lay the string out flat next to a ruler, and measure the distance between the markings. This measurement is your penis circumference.
Use the chart below to determine what size penis cylinder to order. (If your measurement falls between two steps on the chart round up to the larger cylinder size.)
| | |
| --- | --- |
| Penis Circumference | Order Cylinder Diameter |
| 5 1/2" | |
| 6 1/4" | |
| | |
| 7 7/8" | |
These cylinders can be operated with our Basic or Deluxe Brass Hand Pump.
Requires a pump.
Product Details:
• Available in 5 sizes
• 9in/22.86cm Length Only
• Will create a solid suction seal without any additional supplies, like gaskets
• Sturdy clear acrylic construction
• Standard quick release coupler
SKU: IP01652 - 1 1/2" x 9"
SKU: IP01653 - 1 3/4" x 9"
SKU: IP01654 - 2 x 9"
SKU: IP01655 - 2 1/4" x 9"
SKU: IP01656 - 2 1/2" x 9"
Safety and Usage:
All suctioning should be done cautiously because serious skin problems may occur with improper usage. Acting overzealous with this device may inflict temporary bruising, blisters, or red spots. Don't be afraid to try it, but please proceed with caution. Patience and practice will be rewarded with amazing sensitivity. Lubrication and pacing are the most important safety considerations. Don't forget to pick up the Silicone Cushion for an extra tight seal and additional comfort while pumping!