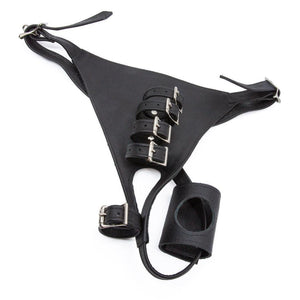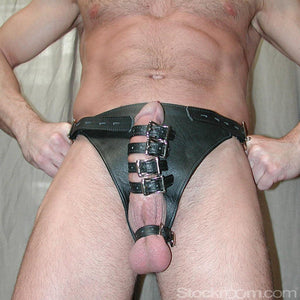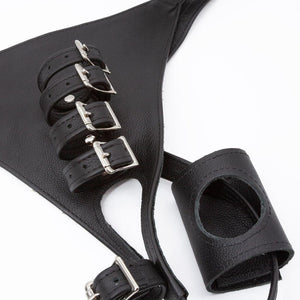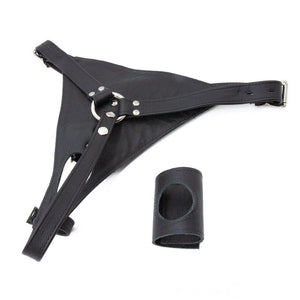 This leather male chastity harness will remind your man who's in charge.
The triangular front piece is held in place by three adjustable straps. The cock and balls come through a hole in the front piece, and then the cock is pulled upwards and held in place by four straps, while an additional strap goes around the balls at the bottom. An optional keeper is also provided, designed to hold an anal plug in place in the back.
Strapped, harnessed, and plugged, your male slave will feel effectively harnessed and controlled. The waist straps are closed with locking buckles, one on each side, which can be locked to prevent the harness from being removed, and could also serve as points of attachment for other bondage gear such as wrist cuffs, or a leash. (If the slave's hands are free, it will still be possible to unbuckle the cock and ball straps, and unsnap the crotch belt, but the waist belt would still be locked on.)
We don't consider this chastity belt to be high-security, or suitable for long-term wear, since it is made of leather, but it is an effective, sensual and erotic device for shorter-term use, for an evening, or perhaps overnight.
The harness is made of soft, multi-ply, stitched black leather. This size should fit waist measurements from 29" to 36" (74-92cm).
Note: This item is produced in-house by our leather team in Los Angeles. In-house items display as "In Stock," and in a majority of cases we do have current stock on hand, but if not, the items will be made to order for you, and our customer service team will notify you promptly regarding any anticipated wait (usually just a few days). You will have the option to cancel if you do not wish to wait. If other items in your order are available immediately, the order may be sent in multiple parts.