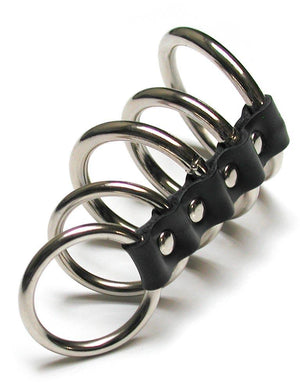 Designed for male restraint and adornment that features 5 nickel-plated steel cock rings connected to a high-quality leather strap.
Product Details:
• Largest ring goes over the cock and balls; the rest of the rings go up the shaft to the head of the penis.
• 1.75" (4.5cm) base ring with two 1.5" (3.8cm) mid-rings and two 1.25" (3.2cm) rings at the top.
• Not safe for nickel allergies.
These products and packaging are designed in the USA. The unique packaging displays these products clearly and honestly. In many cases, the packaging is also reusable and provides a functional and attractive way for you to store your toys for future use.
SKU: KL697