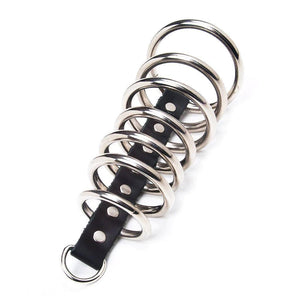 Put your sub in place with our new 7 Gates of Hell with D ring. The added D ring offers a wide range of erotic possibilities to our classic cock harness.
The device consists of seven nickel-plated rings connected by a leather strap, with a D ring at the tip perfect for a leash, weights, or other ingenious pieces of hardware.
Perfect for the exhibitionist sub in your life!
Product Details:
• Ring diameters from Largest to Small
• 2.0in/5.08cm
• 1.75in/4.44cm
• 1.75in/4.44cm
• 1.5in/3.81cm
• 1.5in/3.81cm
• 1.25in/3.17cm
• 1.25in/3.17cm
• Leather strap length: 6.25"
Note: This item is produced in-house by our leather team in Los Angeles. In-house items display as "In Stock," and in a majority of cases we do have current stock on hand, but if not, the items will be made to order for you, and our customer service team will notify you promptly regarding any anticipated wait (usually just a few days). You will have the option to cancel if you do not wish to wait. If other items in your order are available immediately, the order may be sent in multiple parts.