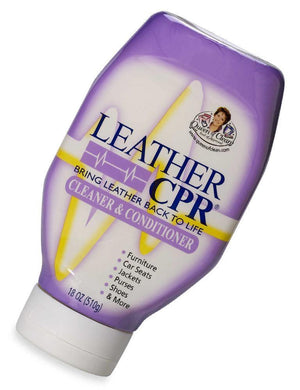 Are your leather goods just surviving? Filthy, stiff and scratched? Bring them back to life with Leather CPR Cleaner & Conditioner. This opaque miracle cream will revive even the oldest of leather goods of any color into the soft and supple texture they were meant to be. Its custom formula is designed to increase the life of your favorite outfit while making it more comfortable at the same time without leaving unpleasant residues.
Dermatologist Tested - The only leather care product made with 100% Cosmetic ingredients and dermatologist tested - will not irritate skin when using on leather furniture, jackets, car seats, purses, baseball gloves, cuffs, fetish gear, all of your Stockroom Originals, and so much more.
Safety and Usage
Squeeze out a decent amount of Leather CPR and apply with a soft sponge. Watch in amazement as Leather CPR wipes away grease and dirt. Continue to massage the leather for 1 – 2 minutes. Repeat the process for really stiff or dirty items and wipe of excess product after you are finished.