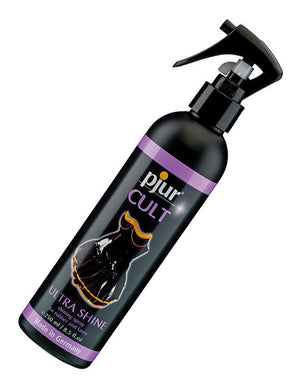 Pjur's Cult Shining Spray gives ultra gloss and conditioning for rubber and latex attire; an intensive care treatment that transforms and enhances latex and rubber. Buff your latex to a highly polished shine while simultaneously making it softer and darn near silky. Pjur's own unique formula is never sticky, long lasting, dirt resistant, and won't smear or stain. On top of all that, don't worry about smell: this is fragrance-free, without preservatives, and there was no animal testing used, period.
How to use this amazing spray: Hold container about 12 inches from the surface and spray. No hand polishing needed. Create your own high-gloss effects. Caution: May react with silicon products.
Directions for use: Apply product care to rubber and latex. Polish to incredible shine. For external use only. Replace cap after use. Store at room temperature.
Ingredients: cyclopentasiloxane, dimethiconol, dimethicone
Warnings and precautions:
• Avoid contact with eyes.
• Keep out of the reach of children.
• Do not use on irritated or infected skin.
• This product is not a contraceptive and contains no spermicide.
• If irritation or discomfort develops, discontinue use and consult a healthcare professional.
• Very slippery on surfaces so clean spills immediately and use special caution in bath and shower areas.