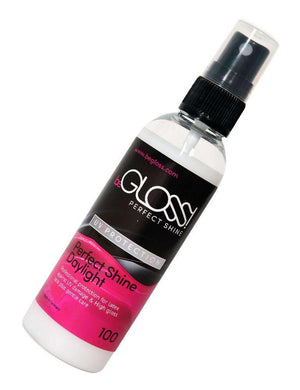 For rubber lovers who like to wear their latex during a day in the sun- beGLOSS Perfect Shine Daylight Protection Spray protects your latex against UV rays! Simply spray it on your beloved latex items, and spread it over with a soft sponge or the beGLOSS Wipe. beGLOSS leaves your latex sexy and glossy with a beautiful satin finish.
To Use: The best preparation for UV protection is to wash your latex clothing with beGLOSS Special Wash Latex make sure all grease and oil residue is removed before you begin the beGLOSS Perfect Shine Daylight Spray treatment. When your latex is completely dry, spray your latex clothing with beGLOSS Latex Daylight and polish your latex with the beGLOSS Wipe polishing cloth. Finished!
Ideal for…latex clothing care, latex clothing conditioning, latex clothing protection, latex fetishes.
Special Features: • beGLOSS Perfect Shine Daylight Spray nourishes and seals latex and leaves it with a matte finish • Immediate professional UV protection against solar rays • Effective protection against harmful substances, fading, cracking and wear • Refreshes and extends the life of your latex • Antistatic results, does not stick • Bottle is hygienically factory-sealed with tamper-evident foil to protect against germs • Bottle sealed for leak-free transportation
Ingredients: Isotridecanol, bronopol, 2-octyl-2H-isothiazol-3-one
Attention: DO NOT PUT NEAR THE EYES.
Safety instructions: Keep locked up and out children's reach. Do not swallow! In case of contact with eyes, rinse immediately with plenty of water and seek medical advice (show the bottle label if possible).