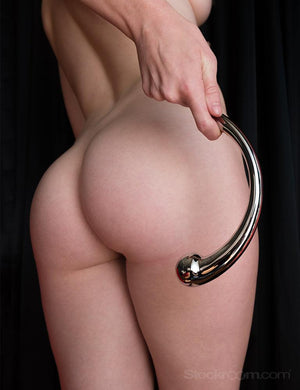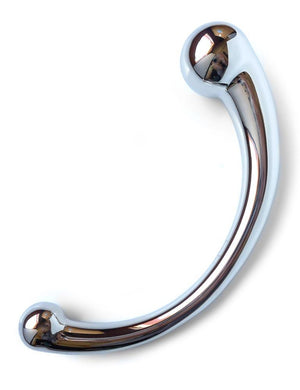 Made of top-grade nonporous stainless steel, polished to a gleaming finish, this gorgeous device is great for doing your kegel exercises as well as for pure, sensuous fucking. It has a gradual curve with rounded ends.
This is a high-quality, US-made product from the endlessly creative and original designers at nJoy.
A review from the Lucky Lana blog:
"We carry a new dildo that I heard gives head shattering O's and looks like a Mid-century Modern Astro barbell. The Njoy Steel Dildo. It's so sleek and shiny, it could be a piece on your coffee table, right next to your collection of Dwell magazines.
This reminds me of the Party Orb from the Woody Allen movie, Sleeper. All these thoroughly Mod cocktail party sophisticates from Woody's vision of the future had a golden device that seemed to give pleasure that acted like an endorphin enducing vibrator. Woody, pretending to be a robot, kept passing the orb from guest to guest until he had the goofiest smile on his face. Anyway, aesthetically, the orb perfectly matched the Mod décor and made the experience chic and delicious. This Njoy barbell dildo is like that (even though it doesn't vibrate). Fortunately for us, this one is non-fiction!"
-Lucky Lana
Safety, Care & Usage:
Since it is hand-crafted from the highest grade stainless steel, the Njoy Fun Wand will last a life time. It is easy to clean with mild soap and water.