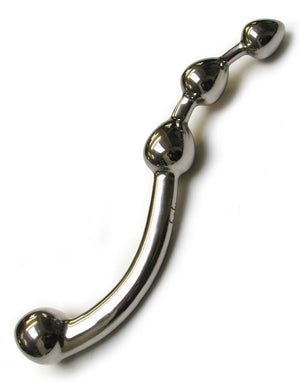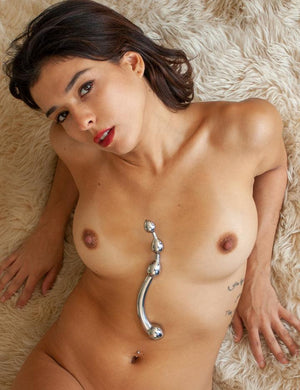 njoy Fun Wand is more than a sex toy. It has as many applications as a Swiss Army knife. Insert one end for amazing g-spot orgasms, or use the beaded end for anal ecstasy. Practice kegel exercises to increase vaginal muscle strength and control, or just grab your favorite massage oil and use the njoy Fun Wand to apply pressure to knots in back and shoulder muscles.
It has a hefty weight to it, and will hold temperature - warm or cold.
This is a high-quality, US-made product from the endlessly creative and original designers at nJoy.
Product Details:
• Length: 8in (20.3cm)
• Insertable Length: 6in (15.24cm)
• Diameter (of head): 1in (2.54cm)
• Diameter of bulbs go from .75in (2cm) to 1in (2.54cm)
• Circumference: 3.5in (7.87cm)
• Weight: 2 lbs (32 oz)
Safety, Care & Usage: Since it is hand-crafted from the highest grade stainless steel, the njoy Fun Wand will last a life time. It is easy to clean with mild soap and water.