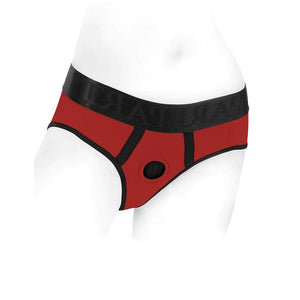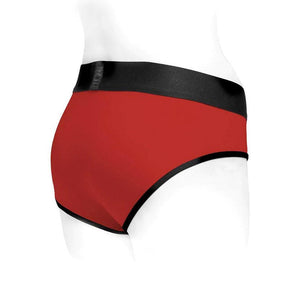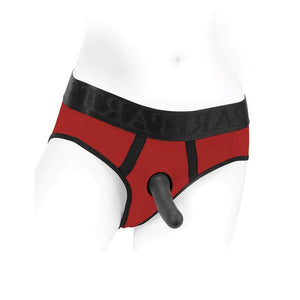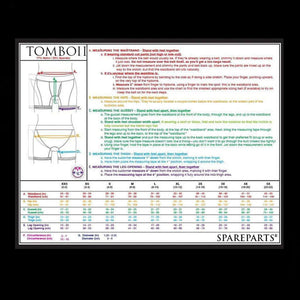 Why interrupt a hot scene to start adjusting straps and buckles to get your harness in just the right place? Keep the action flowing with this gorgeous, proudly provocative harness made of red and black nylon. With the TomBoi, strapping it on as easy as slipping into a pair of briefs. When you're prepping for a hot date that stands a good chance of getting hotter, you can easily wear the TomBoi under your clothes so that you're ready to go. A sexy alternative for the athletic tomboy in your life.
The durable O-ring stitched into the fabric will securely hold any dildo with a diameter of 1.25–2.25 inches (3.17–5.71 cm). For a little extra buzz of pleasure, the TomBoi also has two pockets where you can insert bullet vibes to stimulate both partners.
Product Sizes:
• Small: 28 - 34" Waist
• Medium: 30 - 37" Waist
• Large: 31 - 38" Waist
• XL: 33 - 40" Waist
• 2X: 36 - 44" Waist
• 3X: 39 - 48" Waist
• 4X: 40 - 50" Waist
• 5x: 42 - 52" Waist
Product Details:
• Brief harness underwear, slips on and off as easily as regular briefs
• With internal packing strap, great for pack and play
• Fun with a variety of toys—including double dildos
• Securely fits toys 1.25–2.25 inches (3.17–5.71 cm) in diameter
• Two internal fabric panels separate dildo base from skin, if desired
• Easily switch toys in and out during play
• All-day wear
• Wicks moisture away from the body, keeping you cool when things get hot
• Built-in internal support ensures a secure fit and total control
• Quick-dry nylon spandex is ideal for wet play
• Airport-friendly (non-metal) materials won't set off any alarms
• Vegan lifestyle friendly
• Handcrafted in the USA from premium-quality materials
SKU: F799 (S)
SKU: F800 (M)
SKU: F801 (L)
SKU: G640 (XL)
SKU: G641 (2X)
SKU: G642 (3X)
SKU: G643 (4X)
SKU: G644 (5X) .
To view more size information and instructions on how to measure to determine your size, please click here.