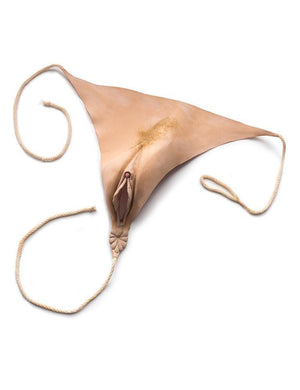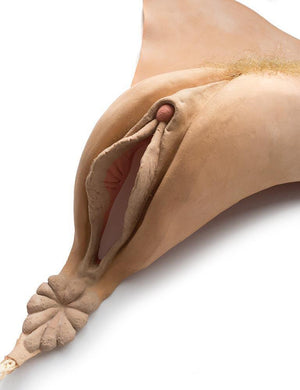 The Original Vee-String Vagina Prosthesis is a latex prosthetic vagina, specifically designed to provide an ultra-realistic vaginal appearance while hiding the male genitals. This is the pussy equivalent to a strap-on cock. It allows a man to have a vagina whenever he chooses to tie it on. This vagina prosthesis can be worn for hours at a time, and it also allows for penetration. While wearing the Vee-String, your "vagina" can be penetrated by an inserted object. It can be penetrated with a real cock, a dildo, a vibrator, a finger, or just about anything else you might want to insert in a real pussy.
The Vee-String prosthetic vagina is made of 100% pure liquid latex rubber, with up to 12 coats of liquid latex being hand brushed into a mold for every custom-made product. Every Vee-String vagina is constructed from 3-4 different colors of tinted latex.
The liquid latex is incredibly stretchable and quickly returns to its original form thanks to the excellent memory of the latex. These products are pliable, durable, and soft.
Custom Vee Strings are available in the following hair colors and hairstyles:
Black, Auburn, Brunette, Light Brown, Red, Golden Blonde, and Strawberry Blonde. Two hairstyles: Neatly trim (#1) or Landing strip (#2).
Note: If you do not want hair on your vee-string, please contact our Customer Service to assist.
Size Details:
• Small: Waist size 26-29in (66-74cm)
• Medium: Waist size 30-36in (76-91cm)
• Large: Waist size 37-42in (94-107cm)
• Extra Large: Waist size 43-50in (109-127cm)
How to wear your Vee-String:
Place the knotted string through the loop behind your back and pull snugly. Center the pussy in the front. The excess string is wrapped around the waist, passed between the legs, brought back up, and tucked into the waist string. A complete guide to 'Wearing your Vee-String' is included with every product.
These products are constructed from 100% latex. Use only water-based lubricants with them. The pubic hair is constructed from 100% acrylic materials.
Usage & Care:
Clean this product with soap and water after wearing. Dry it thoroughly overnight, powder, and store in a dark, cool space. If this product is to be worn over 3 hours, powder with talcum periodically.
Shipping Information:
Please allow 2 to 3 weeks for delivery, since each product is hand made when you order. Express shipping not available for this item. Shipped by U. S. Postal Service. International orders are an additional $25.00.
SKU: C720-Z