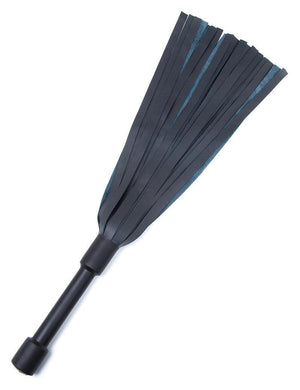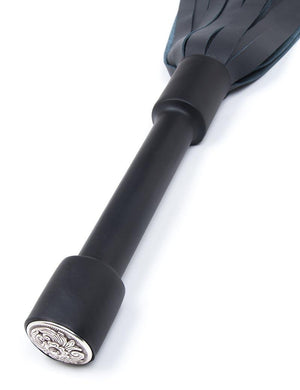 Cool their jets with this menacing (yet not too demonic) Blue Devil Leather Flogger by Dragontailz. Designed with a simple handle to anchor the generous cascade of beautiful blue falls encircled by classic black falls, each of your swings will reveal a stylishly understated splash of color without being overly bright.
The modern, minimalist black handle is made from polypropylene, a thermoplastic polymer, for a smooth, rubbery surface encasing the entire length of the handle and finished with Dragontailz' signature silver "Dragon Jewelry" on the tip, for a distinctive luxurious look.
Made of soft, luxurious Italian upholstery leather in a single piece construction, so none of the 24 falls will ever fall out.
Dragontailz floggers are innovative and carefully created, made to last with exceptional quality and even comes with a limited lifetime warranty by the manufacturer. Please note that there may be slight color variance from the flogger or tail whip shown here.
Product Details:
• Handmade from Italian Upholstery Leather
• Total Length: 24.5in/62.23cm
• Falls Length:16in/40.34cm
• Handle Length:8.5in/21.59cm
• 33 Blue and Black Leather Falls
Safety, Care, and Usage:
Wipe clean after each use and let dry thoroughly before storing. Store your flogger in a cool, dry place. The best and safest way to treat a Dragontailz leather product is by the nourishing oils produced by handling and using the product.