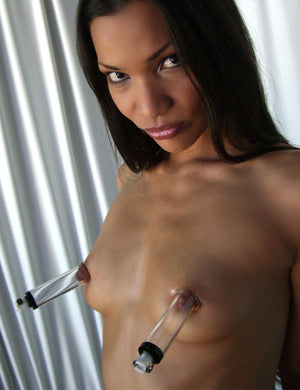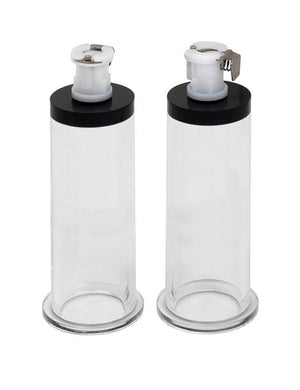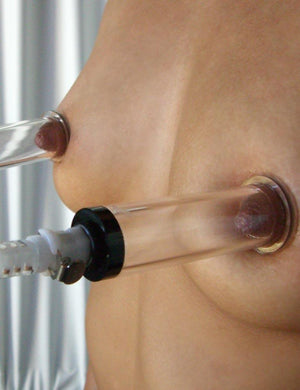 Now you can use suction to stimulate those nipples with the same pump used for penis enlargement.
Each of these cylinders works exactly like the penis cylinders, but they are miniaturized to accommodate several diameters of nipples. The smaller the diameter of the cylinder, the more elongated the nipple will be after suctioning. The wider the cylinder, the more stout the nipple will be. Great sensitivity can be achieved with careful practice.
These cylinders can be operated with our Basic or Deluxe Brass Hand Pump.
PLEASE NOTE:
All suctioning should be done cautiously because serious skin problems may occur with improper usage. An over-zealous person might give themselves temporary bruising, blisters, or little red spots. Don't be afraid to try it, but start slowly. Patience and practice will be rewarded with amazing nipple sensitivity. Lubrication and pacing are the most important safety considerations.
ANOTHER NOTE:
The usual recommended size for Clitoris suctioning is the 5/8" cylinder. Each cylinder is 4" long, made of crystal clear polymer, and has a spring-action pressure release valve.
Sold in pairs.
Requires a pump.
SKU: B094 - 1/2"
SKU: D081 - 5/8"
SKU: B095 - 3/4"
SKU: B093 - 1"