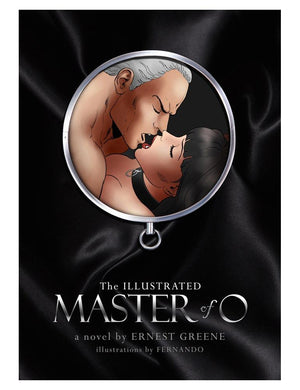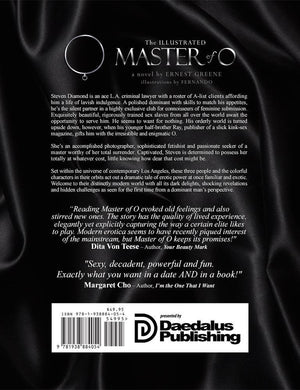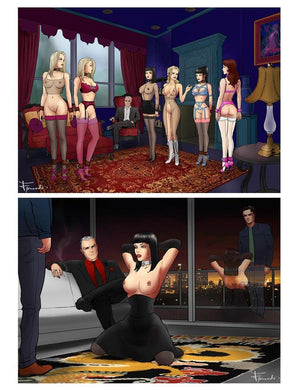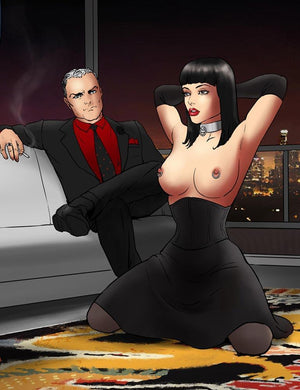 The Illustrated Master of O By Ernest Greene, 625 pages Large Format edition, printed on A4 paper (8.3in X 11.7in) Daedalus Publishing.
Enter the world of Steven Diamond and O as never before with this large format paperback edition of Ernest Greene's modern erotic classic Master of O! This big, beautiful version of Master of O features the same titillating text brought to vibrant new life by the accompaniment of 44 full-color illustrations by renowned fetish illustrator Fernando.
From the back cover:

Steven Diamond is an ace L.A. criminal lawyer with a roster of A-list clients affording him a life of lavish indulgence. A polished dominant with skills to match his appetites, he's the silent partner in a highly exclusive club for connoisseurs of feminine submission. Exquisitely beautiful, rigorously trained sex slaves from all over the world await the opportunity to serve him. He seems to want for nothing. His orderly world is turned upside down, however, when his younger half-brother Ray, publisher of a slick kink-sex magazine, gifts him with the irresistible and enigmatic O.
She's an accomplished photographer, sophisticated fetishist and passionate seeker of a master worthy of her total surrender. Captivated, Steven is determined to possess her totally at whatever cost, little knowing how dear that cost might be.
Set within the universe of contemporary Los Angeles, these three people and the colorful characters in their orbits act out a dramatic tale of erotic power at once familiar and exotic. Welcome to their distinctly modern world with all of its dark delights, shocking revelations and hidden challenges as seen for the first time from a dominant man's perspective.
About the Author:
Ernest Greene has been the Executive Editor of Hustler's flagship BDSM magazine Taboo since 1999, and recently became Chief Associate Editor for Hustler's All-Sex issues. He has performed in, written, produced, or directed over 500 adult titles, including the Nina Hartley's Guide series, starring his wife and producing partner, noted porn star and sex educator Nina Hartley.
About the Illustrator:
Fernando is a self-taught illustrator inspired by American comic books and European fetish art. One of the preeminent creators of graphic novels in the explicit BDSM genre, his work includes the Cheerleaders series, Confiscated Twins, Dark Vengeance, and many more.