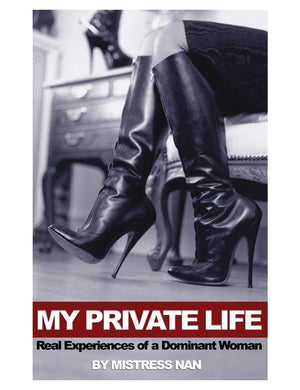 Within these pages the author allows the reader a brief glimpse into the true private life of an erotically dominant woman. As you read each sexually charged chapter it is often hard to believe that what you are reading is true. But nothing in this book is fiction.
Mistress Nan has beautifully recounted some of her more erotic and exciting encounters with the men and women in her life. Each scene is vividly detailed and reads like the finest erotica, but knowing that these scenes really occurred as written adds incredibly to the sexual excitement they elicit. If you wish to read for erotic stimulation or simply want to gain insight into the intimate life of a dominant woman, this book will not disappoint.
A Daedalus Publishing title.
Praise for My Private Life:
First let me say that I was pleasantly surprised by this book. Nan is not the stereotyped femdom you might be thinking of though she can clearly dress up and put on a well-scripted and eleborate scene. The descriptions are not pornographic though they are careful to mention both physical and emotional aspects of the scenes. There are both male and female submissives and bottoms discussed throughout the book, the most extreme scene involve Nana and her primary female lover (she also has a husband). It should stimulate your mind and your groin so be prepared. - Tammy Jo Eckhardt- Kinkybooks.com
Few books have given any insight into the actual life experiences of someone with such sexual interests. In the just published My Private Life: Real Experiences of a Dominant Woman, a woman with such interests finally reveals the intimate, erotic side of herself through the telling of some of the more memorable true erotic encounters she has experienced during her many years as an erotically dominant woman. - Race Bannon, author of Learning the Ropes
This is a fascinating autobiography by Mistress Nan, a well known and respected personality in the Southern California scene. These are "greatest hits" stories, reaching back to the 50's. Mistress Nan writes about what it was to grow up kinky during that time in America, and about some of her many adventures (often quite intense) in the decades sinse. Nan plays with men and women, and tells these true stories with a simple passion that makes them real.
Non-fiction. 196 pages.