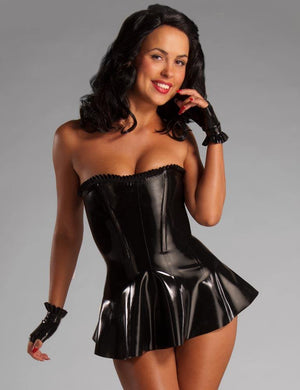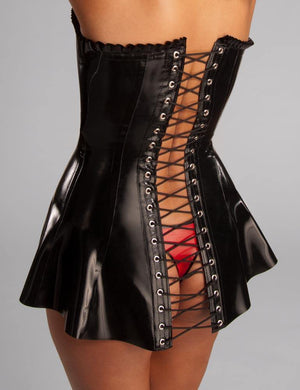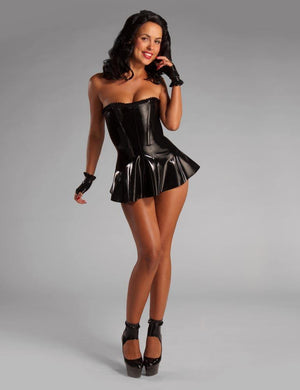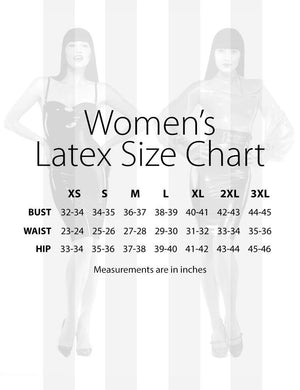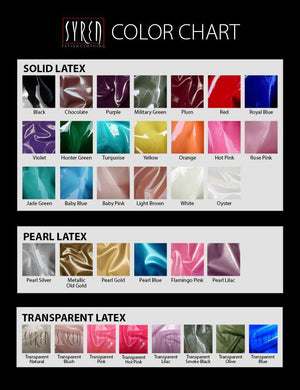 Scarlett O'Hara never had it so good… This binding, beauteous Corset Dress is fully boned and laces up the back, allowing for very sexy waist cinching. Your hourglass curves are further complemented by the ruffle edge and graceful cut. Made from 20 gauge latex in your choice of several colors options.
The Rubber Corset Dress is a very fashionable latex fetish piece. Our corset dress laces up the back with nickel plated eyelets. The torso is fully boned for cinching in the waist to achieve that hourglass shape. The dress is a fully functioning corset. The ruffles at the top give it a delicate feminine touch.
Sensual and sexy, this is a highly detailed but elegant little latex dress. Black or contrasting color trim on ruffles around the corset top set off this form-fitting dress's eye-catching design. Made from high quality 14 gauge latex, this item's ruffles are available in any of our selected colors.
All Syren items are made to order, just for you, and will take 4-6 weeks turnaround time by our Los Angeles production team.
NOTE: For this item in a color or size other than listed in the dropdown menu, call us at 1-800-755-TOYS or 1-213-484-3882 or email info@stockroom.com to place your custom order. Please note that a custom surcharge fee will apply.
Syren is a recognized brand among both fetish fashion enthusiasts and filmmakers who have counted on the company to produce costumes for films such as Batman, Catwoman and Mr. and Mrs. Smith. Joining forces with the Stockroom.com latex designers, we are proud to announce that Syren products have exciting updated styles and improved manufacturing techniques that greatly increase the life of the garments. All Syren products are produced in Los Angeles.