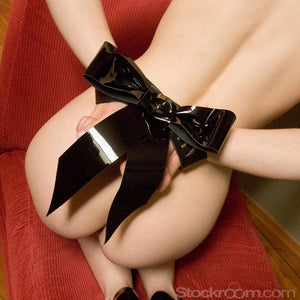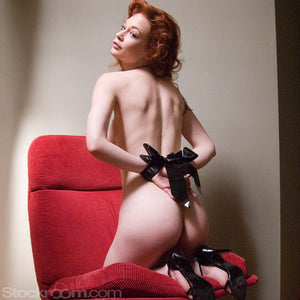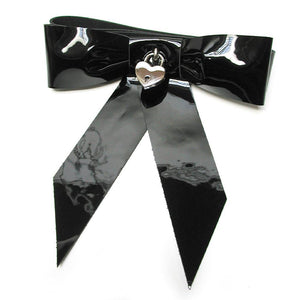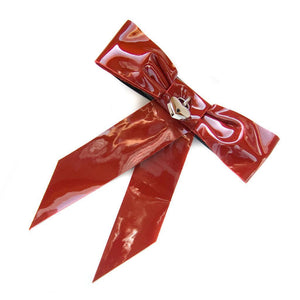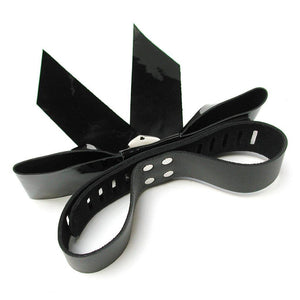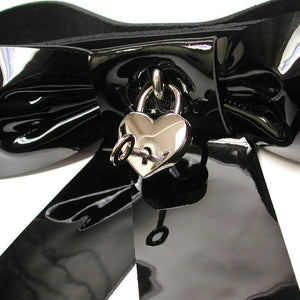 Gift-wrap submission™ with the Patent Leather Bow Wrist Restraint. The Patent Leather Bow Wrist Restraint is a charming and inventive new bondage restraint that functions like a pair of locking wrist cuffs, or an adjustable bondage belt for the wrists.
The aesthetic aspect of this item is what makes it truly special. On top of the adjustable black Latigo leather restraint strap is a high gloss patent leather gift bow. The bow fits over a D-ring shaped nickel plated plate staple that holds a heart shaped chrome padlock.
This is an original, one of a kind design, exclusive to the Stockroom. You won't find anything like it anywhere.
The maximum circumference of the adjustable Latigo leather wrist restraint is 11", and the maximum diameter is 3½". The minimum circumference is 6½", and the minimum diameter is 2". This item is definitely "one size fits all".
The patent leather gift bow is 8½" across from one loop to the other, and each loop is 2½" wide. The two ribbon tails of the gift bow are each 8½" long and 2" wide. Each of the ribbon tails ends in an angled point, producing a ½ dove-tail effect.
This innovative handmade bondage restraint is comfortable and easy to use.
Heart Padlock Included with Two Keys
Note: This item is produced in-house by our leather team in Los Angeles. In-house items display as "In Stock," and in a majority of cases we do have current stock on hand, but if not, the items will be made to order for you, and our customer service team will notify you promptly regarding any anticipated wait (usually just a few days). You will have the option to cancel if you do not wish to wait. If other items in your order are available immediately, the order may be sent in multiple parts.