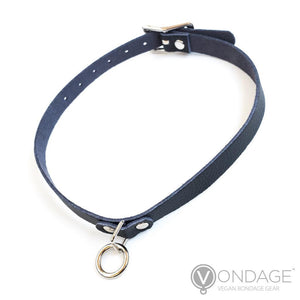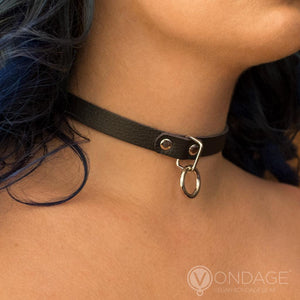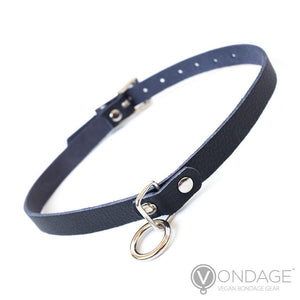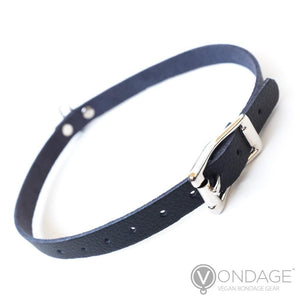 The Vondage Vegan Leather Choker is adorned with a metal O-Ring, and is as kinky as it is stylish. This sexy bondage choker is functional and erotic in private, and can add a stylish twist on your everyday-wear. Made of The Stockroom's luxuriously soft faux-leather, you'll never want to take the Vondage Choker off. This is a buckling collar, ½" wide, with a D-ring as a point of attachment.
The basic Choker has a metal O-ring pendant, appropriate for attaching a leash (such as the Vondage Chain Leash) or other bondage implement.
Ideal for...Bondage Play, Vegan Kinksters, Puppy Play, BDSM, Slaves, Submissives, Everyday-wear and BDSM Fashion.
Product Details:
• Available in 4 sizes: Small, Medium, Large & X-Large
• Small (fits 11-14.5in/28-37cm)
• Medium (fits 13-16.5in/33-42cm)
• Large (fits 13.5-18in/34.3-46cm)
• X-Large (fits 14.5-19in/37-48.3cm)
Safety, Care & Usage: With a damp washcloth and hand soap, rub-down the vegan microfiber material and dry completely. Do not expose material to excessive heat.
Note: This item is produced in-house by our leather team in Los Angeles. In-house items display as "In Stock," and in a majority of cases we do have current stock on hand, but if not, the items will be made to order for you, and our customer service team will notify you promptly regarding any anticipated wait (usually just a few days). You will have the option to cancel if you do not wish to wait. If other items in your order are available immediately, the order may be sent in multiple parts.