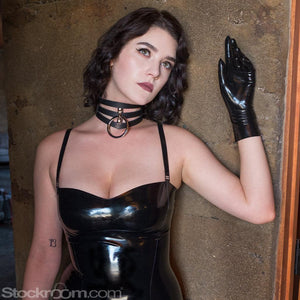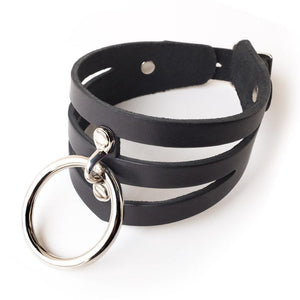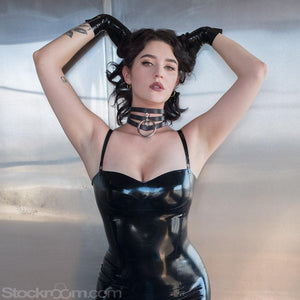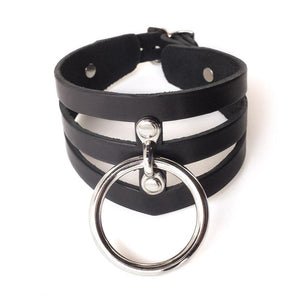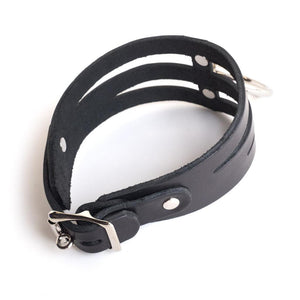 Made of top quality, buttery soft oil tan leather that gets better with each wear and accompanied by a large O-Ring center, the STK Lux "Sub" Collar was created to be both tantalizing and durable.
This collar's unique design and cut gives the illusion that there are three different chokers being worn, attached by a leather and metal centerpiece. The STK Lux "Sub" Collar is exclusively sold at Stockroom, and practically screams "I am yours"! Complete the look by attaching a leash to the center O-Ring, and by giving your partner the STK Lux "Dom" Collar.
Our leather bondage gear is made of particularly fine leather and manufactured right here in Los Angeles, USA.
Product Details:
• Exclusively sold at The Stockroom
• Available in 2 sizes: Small & Large
• Small fits necks 12.5" - 14.5" (32 - 37cm)
• Large fits necks 14.5" - 16.5" (37 - 42cm)
• Made with oil tan leather & nickel-plated hardware
• A heavy-gauge O-ring provides a point of attachment.
• Lock can be added to the buckle for extra security but is not necessary.
Note: This item is produced in-house by our leather team in Los Angeles. In-house items display as "In Stock," and in a majority of cases we do have current stock on hand, but if not, the items will be made to order for you, and our customer service team will notify you promptly regarding any anticipated wait (usually just a few days). You will have the option to cancel if you do not wish to wait. If other items in your order are available immediately, the order may be sent in multiple parts.