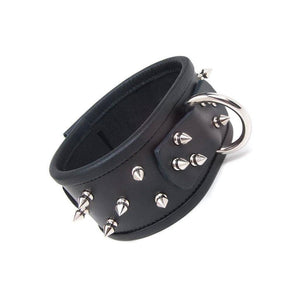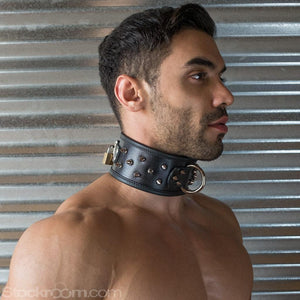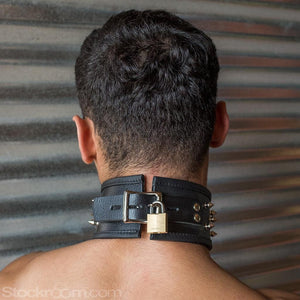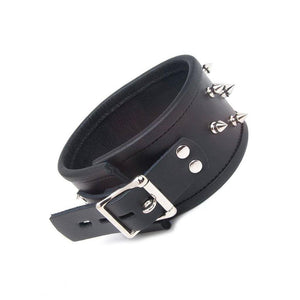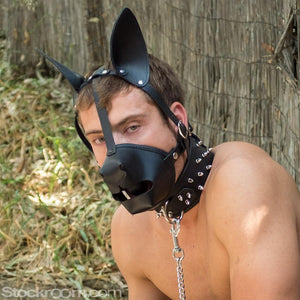 Show the rest of the pack who's in charge with our Alpha Dog Collar with Spikes. 3 rows of spiked studs encompass this wide leather collar, warning anyone who comes near that the wearer is not to be messed with. A lockable buckle in the back gives Master the option to ensure this, and a supremely secured, heavy-duty D-ring in the front will hold up to even the roughest play.
The top and bottom edges of this 2.5-inch wide collar are encased in leather as well, for more comfortable wear without chafing. Handcrafted with superior quality in our legendary Los Angeles workshop.
• Ideal for: Puppy Play Fetish, Pet Play, Animal Role-play, Human Pup Training.
Product Details:
• Made of Latigo Leather
• Width: 2.5 in/6.35 cm
• Nickel-plated hardware
• Lockable buckle
• Available in 4 sizes: S, M, L & XL
• Features a 1" locking center bar, roller buckle
• Accommodates padlocks such as the Baby Nickel Plated Padlock or the Master Lock Padlock
SKU: J634 (Small) - Fits necks sized 11.5in - 13.5in (29.2cm - 34.2cm)
SKU: J635 (Medium) - Fits neck sized 13.5in - 15in (34.2cm - 38.1cm)
SKU: J636 (Large) - Fits neck sized 15in - 16.5in (38.1cm - 41.9cm)
SKU: J637 (XL) - Fits neck sized 16.5in - 18in (41.9cm - 45.7cm)
Note: This item is produced in-house by our leather team in Los Angeles. In-house items display as "In Stock," and in a majority of cases we do have current stock on hand, but if not, the items will be made to order for you, and our customer service team will notify you promptly regarding any anticipated wait (usually just a few days). You will have the option to cancel if you do not wish to wait. If other items in your order are available immediately, the order may be sent in multiple parts.