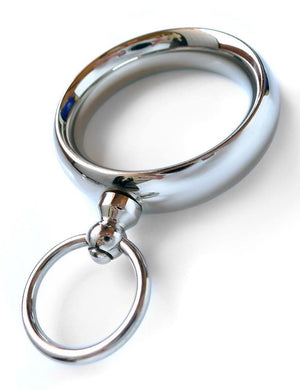 A stopped watch may be right twice a day, but a hard cock is great anytime!
This enchanting piece of genital jewelry serves the traditional uses of a cock ring, accentuating the shaft, and helping maintain a powerful erection, but goes a step further, adding a handsome steel o-ring which one can attach a leash, chain, rope, or snap hooks to for extra BDSM fun.
Last Chance: Available in XS only
Product Details:
Extra Small (E216XS):
• Interior Ring Diameter 1.3in/3.3cm
• Interior Ring Circumference 4.1in/10.4cm
SKU: E216XS
Safety, Care, and Usage:
Clean before and after use with alcohol wipes or other disinfectant. Place in warm or cool water to change the temperature of this toy to your desired level. Always test your heated or chilled toy on a less sensitive part of the body before playing with it.