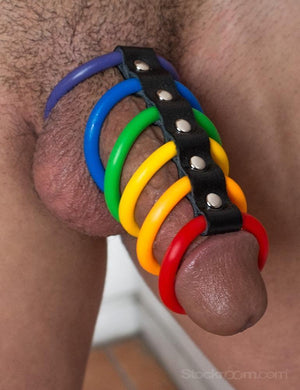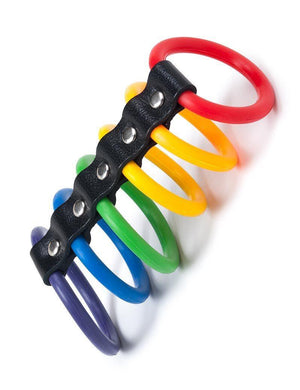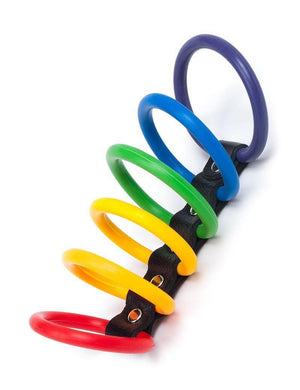 Pride isn't just for flags. With this festive-looking chastity device, you can put the rainbow on your favorite penis and make your play a little bit more flamboyant.
Designed and assembled in Stockroom's own workshop, the six silicone rings connected by a leather strap comfortably restrict the shaft until you're ready to release it. Even the darkest dungeon will be brightened by the colors.
Perfect for the sub who's proud of his service to you and wants everyone to know it.
The rings get progressively smaller, confining the penis. On this 6-Ring version, the first Purple ring is 1 7/8" in diameter. The second and third (Blue and Green) rings are 1¾", the next three rings (Yellow, Orange, and Red) are 1½". The entire length is about 4".
Note: This item is produced in-house by our leather team in Los Angeles. In-house items display as "In Stock," and in a majority of cases we do have current stock on hand, but if not, the items will be made to order for you, and our customer service team will notify you promptly regarding any anticipated wait (usually just a few days). You will have the option to cancel if you do not wish to wait. If other items in your order are available immediately, the order may be sent in multiple parts.